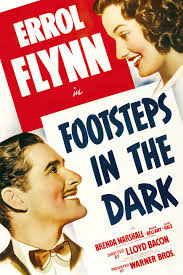 Francis Monroe Warren II (Errol Flynn) is a member of the upper crust. He is an investment counselor for some of the most important people in the city. He has a wife, Rita (Brenda Marshall) and a mother-in-law, Agatha Archer (Lucile Watson). Francis is also living a double life. He is also F.X. Pettijohn a pseudonym he uses as a writer. As Pettijohn he writes detective novels. His latest book "Footsteps in the Dark" has just been published. His chauffer Wilfred (Allen Jenkins) is also his secretary when he writes. Police Inspector Charles Mason (Alan Hale) and Police Detective 'Hoppy' Hopkins know him as Pettijohn. His wife, mother-in-law and everyone at work only know him as Francis Warren.
One day while working at the investment firm a man named Leopold Fissue (Noel Madison) visits Francis at his office. He is looking to turn some uncut diamonds into cash. He hints to Francis that they both have double lives. Francis is on guard but agrees to meet him later at this hotel. Francis shows up for his meeting, but Fissue is a no show. His servant, Ahmed (Tuhan Bey), says Fissue is out on his yacht and there is no way to get a hold of him.
Fissue is later found dead on his yacht. Francis finds out about Fissue through Inspector Mason. Mason says the man died due to a heart problem brought on by alcoholism. As Pettijohn, Francis knows more about Fissue than the police do. He believes that Fissue was murdered over the diamonds. Something the police know nothing about. He decides that he is going to solve the murder of Fissue. Clues from Fissue's apartment brings Francis to a burlesque theater and a dancer named Blondie White (Lee Patrick). Francis continues to get more involved in the investigation.
Francis' wife, due to her mother's suspicions, begins to believe that her husband is having an affair. A private detective hired by her mother turns up not only Blondie White but the address that Francis uses to write his sleazy detective stories. Rita is seen leaving Blondie's apartment building shortly before Blondie's body is found and Francis is found at Blondie's apartment door by the police. Francis is in a panic to not only clear himself and his wife but find out the identity of the real killer.
"Footsteps in the Dark" was released in 1941 and was directed by Lloyd Bacon. It is a comedy/murder mystery that incorporates aspects from two different plays, "Footsteps in the Dark" and "Blondie White". Despite the fact that it featured Errol Flynn, Ralph Bellamy and Alan Hale the film didn't do too well at the box office.
I found that very surprising since, outside of Francis being devious to his wife, I found the movie to be charming. It's fast paced and full of light humor. The acting is good, the dialogue is light, and the murders are incidental. It's very much Errol Flynn's show. Jenkins as the chauffer/secretary is his snarky best. Hale is wonderful as the Inspector trying to look like he isn't in over his head. Lee Patrick as Blondie White is one of my favorites as the singer/dancer who was definitely not hired for her singing and dancing.
Flynn had a ball making his film. He had done seven pictures in a row that were of the swashbuckler type and was pretty sick of them. He asked Jack Warner from Warner Brothers for something different, and this is what he got. He plays it to the hilt. There's something about this movie that reminds me of "True Lies" 1994 with Schwarzenegger and Jamie Lee Curtis. I guess that would make Allen Jenkins the equivalent of Tom Arnold.
It's a fun, delightful film.