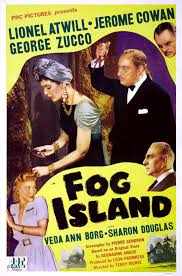 "There's no jury here, no judge, nor will there be any witnesses."
Leo Grainer/Grainger (George Zucco) is an ex-convict who lives with his step-daughter Gail (Sharon Douglas) on a secluded island called Fog Island. Leo had been framed by a group of former business associates. The suspects are Alec Richfield (Lionel Atwill), John Kavanaugh (Jerome Cowen), his former secretary Sylvia Jordon (Veda Ann Borg), and a fake psychic Emiline Bronson (Jacqueline deWit).
While he was in jail his wife had been killed and his business destroyed. He suspects one of his associates of also killing his late wife. Wanting to learn who the culprit is he invites everyone to his mansion. He tells them that he wants to see justice done and that there is a hidden fortune on the island. Playing on their greed they all accept the invitation. One player, however, is Jeff Kingsley (John Whitney). His father Jackson Kingsley received the invitation. His father had passed away so Jeff came in his stead. He said to see justice done, and perhaps to also see Grainer's step-daughter Gail (Sharon Douglas) whom he had a crush on in college.
Before they arrive Leo rigs the mansion with secret passages and traps. He is assisted by his former cell-mate and accountant Doc Lake (Ian Keith). Lake also has a grudge against the group. He had been accused as well. When the guests get there he gives each one, including his step-daughter and butler Allerton (George Lloyd), a package. Wrapped in the package is a clue. A pen, a skull, a chisel, a key, a book and a penknife. With the clues they need to find out what they mean and how to use them. Each person is pitted against the others. A cloud of suspicion hangs over the island.
"Fog Island" was released in 1945 and was directed by Terry O. Morse. It is based on a play called "Angel Island" by Bernadine "Bernie" Angus. It's more of a mystery with a little horror tossed in. Sort of an Old Dark House on an island. Agatha Christiesque. Reminiscent of "Ten Little Indians" but in a low budget "B" style. Producers Releasing Corporation (PRC) made a lot of cheap "B" movies. It's not a well known movie so finding it can be a treat. Also, since it is old and not well known, don't expect good quality in the film stock. The sound won't be clear and there may be some jumps and skips.
As for the movie itself. There are some fuzzy parts to the plot, but not enough to ruin it. Zucco and Atwill are always interesting to watch. There's lots of suspense. A red herring or two. And plenty of murders. If you're a fan of "Old Dark House" type mysteries this is a fine example.