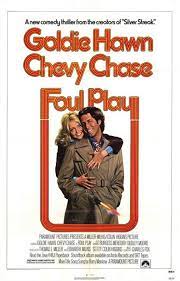 Gloria Mundy (Goldie Hawn) is a somewhat shy divorced librarian. While at a party she sees an attractive man and flirts with him across the room. The moment is ruined when he stumbles while trying to be debonair and knocks a bunch of glasses off the bar. Later, at the same party her friend tries to encourage her to open up a little, take some chances, and experience new things.
Gloria leaves the party and, hearing her friend's words in her head, picks up a hitchhiker whose car has broken down. The hitchhiker says his name is Bob "Scotty" Scott (Bruce Solomon). Gloria is unaware that they are being followed. Scotty secretly puts a role of exposed microfilm in a pack of cigarettes. He makes a date with Gloria for a movie later that night and asks her to hold his cigarettes for him till then as he is trying to quit.
At the theater Scotty is late so Gloria goes in without him. Scotty eventually stumbles in. He says there will be a murder. He then whispers to her "Beware of the dwarf" and falls dead. Gloria screams and races for the manager. By the time the manager gets to where they were sitting Scotty's body is gone.
Strange things begin to happen to Gloria. The next night, at the library, she is attacked and chased by an albino man (William Frankfather). Hiding in a bar she asks a stranger, Stanley Tibbets (Dudley Moore) to take her home. Misunderstanding her intentions Stanley takes her to his bachelor pad thinking he's going to get lucky. When she finally gets home she is assaulted by a man with a scar on his face (Don Calfa), who is looking for something he says Scotty gave her. He gets the pack of cigarettes with the film in it and then tries to strangle Gloria. She stabs him with her knitting needles. While on the phone to the police he attacks her again with a fireplace poker. The man is then stabbed by the albino who throws a knife at him while leaning into the window. At this point Gloria faints.
When she regains consciousness the clumsy man from the party is leaning over her and she is on the couch. He is Lieutenant Tony Carlson (Chevy Chase) from the police. With him is his partner, Inspector "Fergie" Ferguson (Brian Dennehy). They were let in by Gloria's landlord, Mr. Hennessey (Burgess Meredith). Gloria tells them what happened, but there is no dead body in the apartment so everyone thinks she's a little nutty. Tony and Fergie humor her and leave. The next day Gloria is kidnapped for real. What follows is murder, more kidnapping and a plot to assassinate a high ranking person.
"Foul Play" was released in 1978 and was directed by Colin Higgins. It is a comedy mystery and a thriller.
The movie is the first time Goldie Hawn and Chevy Chase were paired in a film. It is also the first theatrical film starring a SNL cast member, namely Chevy Chase. This is also Dudley Moore's first American film. Goldie Hawn is adorable and Chevy Chase is not nearly as dopey as usual. For the most part he manages to pull off the leading man role. My favorite, of course, is Dudley Moore as Stanley Tibbets. Coming in second is Burgess Meredith as Gloria's landlord, Mr. Hennessey. He has a pet boa constrictor and knows karate. Something that comes in handy at one point.
The movie has been compared a lot to the Hitchcock style of movie making, complete with a MacGuffin. It does, however, have a lot more comedy and Barry Manilow than the usual Hitchcock thriller. The movie sparkles with wonderful scenery and a great mix of comedy and suspense and has, deservedly, become a cult favorite.