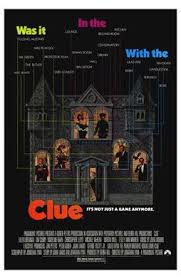 Invitations are sent out to six people to attend a formal dinner party. Colonel Mustard (Martin Mull), Mrs. White (Madeline Kahn), Mr. Green (Michael McKean), Miss Scarlet (Lesley Ann Warren), Professor Plum (Christopher Lloyd) and Mrs. Peacock (Eileen Brennan). Each guest is greeted at the door by Wadsworth the butler (Tim Curry). Yvette the maid (Colleen Camp) serves drinks. In the kitchen the Cook, Mrs. Ho (Kellye Nakahara), is preparing the dinner.
One seat at the table is currently empty waiting for Mr. Boddy (Lee Ving). No one knows why they were invited. Eventually Mr. Boddy arrives. Wadsworth then relates that he received a letter. Each guest received a similar letter saying that it would be to their advantage to attend because Mr. Boddy will bring to an end a long standing, confidential and painful financial liability.
After dinner they go to the study. Wadsworth reveals that Mr. Boddy has been blackmailing each of the guests. He wants them to expose Mr. Boddy which will then stop the blackmail. Mr. Boddy says that he guessed that this was the reason for the invitation. He gives each guest a present. To one a candlestick, to another a knife, a pipe, a revolver, a rope and a wrench, all of them are or can be used as lethal weapons.
He tells everyone that if they denounce him they will be exposing themselves. He then says that someone should kill Wadsworth. The only ones who would know are those in the room. He then turns out the lights. A shot rings out and a scream is let out. The lights come back on. Mr. Boddy is dead on the floor. But with no bullet hole no one knows how de died or by whom. Someone suggests the cook did it. They run to the kitchen to find her dead as well. She was stabbed with the knife. Back into the study they run where Mr. Boddy's body is now gone. He next shows up bleeding from head having been hit by the candlestick. This time he really dies.
Everyone is now in a full blown panic pointing fingers at each other and knowing there is a killer in their midst. A killer or killers who are not done. Before the night is over at least six people will be dead, none of them the actual six invited guests.
"Clue" was released in 1985 and was directed by Jonathan Lynn. It is an Old Dark House mystery and a black comedy based on the Parker Brothers board game "Clue", which is now owned by Hasbro. It is also the first movie based on a board game. Though the movie didn't do well at the box office it has since developed a cult following.
In keeping with the nature of the board game, the theatrical release included three possible endings, with different theaters receiving one of the three endings. In the film's home video release, all three endings were included. At the point where Wadsworth cuts the power to the house during his reenactment of the crimes is the point where the three separate endings diverge.
It is a very energetic farce with some exotic personalities and some great actors. The movie is in a similar vein as "Murder by Death" 1976 but with more action and a better script. It's also more fun. There's a lot of humor interjected throughout the film. Tim Curry is wonderful and Eileen Brennan was exceptional when you consider it was her first film after being released from the Betty Ford Center for her addiction to pain medication resulting from a car accident.
The original game was first released in 1949 and is based on murder mystery stories from the 40's. The Europe edition is called "Cluedo". The "Clue" franchise includes different editions of the original game, card games, books and a DVD version of the game. It also spawned a British game show, a world championship, and a musical. In 2008 the game got a bit of a facelift to appeal to different generations. Character histories were updated; for example Victor Plum is now a video game designer. In 2016 Mrs. White was replaced with Dr. Orchid.
The cars that the main characters drive are color coordinated with their character's names and their playing piece in the game. Colonel Mustard drives a yellow 1954 Cadillac Series 62, Mrs. White drives a black-and-white 1950 MG TD convertible, Mrs. Peacock drives a blue 1952 Packard 200 Deluxe club sedan, Mr. Green drives a green 1951 Plymouth Cranbrook, Ms. Scarlet drives a 1946 red Lincoln Continental, and Professor Plum drives a purple 1949 Pontiac Streamliner Station Wagon.