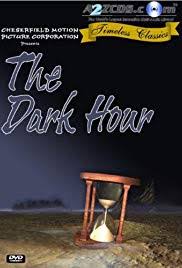 "Dead… Henry? I knew it. My poor brother. I'll go next."
Henry Carson (William V. Mong) and Charles Carson (Hobart Bosworth) are brothers. They are also very rich old men. Their niece Elsa Carson (Irene Ware) lives with them at their large home. Elsa is in love with Jim Landis (Ray Walker). Jim is a police detective. Elsa's uncle Henry is not fond of the detective and would rather Elsa marry scientist Peter Blake (Harold Goodwin). Blake of course is after the Carson money. Blake lives next door with retired detective Paul Bernard (Berton Churchill).
On the other side of the Carson's lives Elsa's aunt Mrs. Marion Tallman (Hedda Hopper). Mrs. Tallman's brother was married to Henry and Charles' sister. A marriage the brothers were against. Nobody likes anybody in the Carson family. Although Mrs. Tallman is fond of Elsa. When Henry Carson is found murdered there is no shortage of suspects. Even the butler Foot (E.E. Clive) is under suspicion Jim is assigned to the case. He asks retired detective Bernard for his assistance and expertise. Together they comb for clues and question witnesses. When Foot the butler is killed the clues and suspicion begin to focus on Elsa.
"The Dark Hour" was released in 1936 and was directed by Charles Lamont. The movie is a poverty row film distributed by Chesterfield Pictures. The company never owned its own studios, so it rented space from others such as Universal and RKO. The movie was based on the novel "The Lat Trap" by Sinclair Gluck.
It's a charming little who-done-it with a twist and then a turn. The movie is billed as a comedy/crime/drama but it's really more of a straight up murder mystery. It wasn't funny but it was interesting. The plot was involved and included two murders and arson, but, for the most part, everything came together in the end. Yes, there were red herrings, but they didn't dwell on them. Each one was dealt with as it came up. The two detectives from different generations had different ways of analyzing the murder scenes but they worked together well and used each other's expertise to bring the plot forward and find the killer. Too bad they both were wrong.
Even the cast was a good mix of well-heeled actors.
Welsh born EE. Clive was a prolific character actor. He played lots of butlers, Inspectors, burgomasters, and mayors. He was in "The Invisible Man" 1933 and "Bride of Frankenstein" 1935.
Berton Churchill was a Canadian and a well-known character actor. He was in "I am a Fugitive from a Chain Gang" and "Stagecoach". He was also one of the founding members of The Screen Actors Guild.
Hedda Hopper appeared in dozens of movies in a lot of small parts. She was known as the Queen of the Quickies. In 1938 she started writing a gossip column where she dished out crap and blackmailed whoever she could. She made a fortune. Her son William Hopper played Paul Drake on the "Perry Mason" TV series with Raymond Burr.