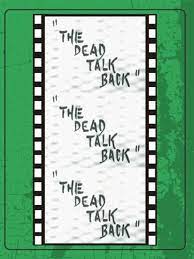 Henry Krasker (Aldo Farnese) is a private investigator and a paranormal scientist who has previously done some work for the police.  He is currently working on an invention that is a sort of radio with which he hopes to be able to talk to the dead.  Krasker is convinced that, once his device works, that he can use it to find lost items, treasure, or solve crimes, especially murders.
Krasker lives in a boarding house run by Mrs. Corman (Rose Gorman).  Among the other male boarders is Raymond Milburn (Myron Natwick), who comes from a rich family.  He is waiting for his inheritance to kick in, and works as a radio announcer.  In addition are Frits Kreuger (Curtin Robert), a slimy creepy guy that stares at pretty women, Christy Mattling (Kyle Stanton), a holy roller that quotes bible verses to everyone, and Harold Yonger (Mat Maracco), a quiet man who clerks in a music shop.
One of the woman boarders is Renee Coliveil (Laura Brock).  Renee is a model and a party girl.  When Renee is murdered, by being shot with a crossbow, Lieutenant Lewis (Scott Douglas) and his assistant Harry (Earl Sands) are assigned to the case.  Their investigation turns up a photographer named Tony Pettini (Sammy Ray), who took some pictures for Renee.  Pettini, in addition to the regular suspects, Yonger, Mattling, Kreuger and Milburn are all interviewed by the police, but the investigation goes nowhere.  It's not until Krasker, and the use of his invention to contact the deceased Renee, that the murdered woman gets justice.    
"The Dead Talk Back" was produced in 1957, and then promptly lost.  It was finally discovered in a warehouse, owned by Headliner Productions, over forty-five years later.  The rights were purchased by Sinister Cinema and the film was, unfortunately, finally released in 1993 on video.  It was then quickly lampooned in 1994 by Mystery Science Theater 3000.  The MST3K version is where it got most of its popularity.  It is a low budget mystery with horror aspects that was written, produced and directed by Merle S. Gould.
The movie is a hodge-podge of bad directing, bad editing and some serious bad acting.  It is told in the police procedural style with some pseudo-noir elements and a beatnik undertone, similar to the Ed Wood method of writing.  Bad as it is, there is still a hypnotic element to the film.  A combination of the breaking of the fourth wall, and periodic voice-overs punctuate the movie keeping the bland, nondescript dialogue and slow action from being totally numbing.  All that plus the fascination I had with Farnese's Bride of Frankenstein hair.  In addition, the film claims to be a true story.  Only the names were changed, to protect the innocent.
The film was featured in Steve Miller's book "150 Movies You Should Die Before You See".  Director, writer, producer Gould's only real claim to fame is that he flew 39 combat missions in the South Pacific during WWII while in the United States Army.  For that, he earns lots of accolades.