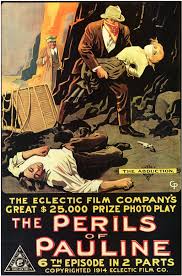 Stanford Marvin (Edward Jose) is the administrator of an estate that belongs to his ward Pauline Marvin (Pearl White). Stanford has a son, Harry Marvin (Crane Wilbur). Harry and Pauline grew up together and are now in love. Harry wants to get married and his father is all for the union. Pauline, however, is anxious to have some adventure before she settles down. Stanford is getting old and is not well. He wants to make sure that Pauline is taken care of but he agrees to let her have some adventure before she marries Harry.
Koerner (Paul Panzer) is a slimy con man that managed to become Stanford's confidential secretary. From out of Koerner's past comes Hicks (Francis Carlyle). He sees that Koerner is doing well and wants some money or he will tell Stanford about Koerner's convict past. Koerner convinces him to wait since he knows that Stanford is ill and it won't be long before he dies. He assures Hicks that since he is Stanford's trusted assistant he should come into some money. When Stanford dies his will states that his estate goes to his son Harry. Pauline's estate he entrusts to Koerner until Pauline marries.
Koerner is greedy and anxious to get a hold of Pauline's estate. He now uses his association with Hicks and several other unsavory people to find a way to do away with Pauline. Pauline is eager to have some adventure and is ripe for maneuvering into dangerous exploits. Harry is not happy with Pauline's quest for hair-raising adventures, all of which Koerner tries to sabotage.
"The Perils of Pauline" was released in 1914 and was directed by Louis J. Gasnier and Donald MacKenzie. It is a silent action adventure serial. Originally the serial was twenty chapters long and lasted about 410 minutes. Originally planned to be 13 chapters but was extended to 20 chapters due to its popularity.
A shorter version was in French and is only nine chapters and about 214 minutes long. It was released in 1916. Only the shortened version exists. Since the original version no longer exists the shortened 9 chapter version was retranslated back to English with a few strange results.
The French version was called "Les Exploits d'Elaine" ("The Exploits of Elaine"). Chapter titles were: 1. Par le vertige et par le feu, 2. La Déesse du Far-west, 3. Le Trésor du pirate, 4. le Virage mortel, 5. Le Fil aérien, 6. L'aile brisée, 7. La Plongée tragique, 8. Le Reptile sous les fleurs, 9. Le Cercueil flottant. The name of the villain was "Raymond Owen" in the original 1914 US theatrical release. The character's name was changed to the German-sounding "Koerner" for the 1916 European release.
Unlike most serials, chapters for the English version were released every two weeks. Chapter 1 was three reels, the rest were two. The storyline in most of the 20 chapters was self-contained. There are no cliffhangers. Chapters 3 and 4 and 6 through 8 are the only ones where the story continued directly from one chapter to the next in the original version. The version that survives is not only edited-down but the chapters were also rearranged.
The novel of the same name by Charles W. Goddard was published serially in newspapers while the film was playing in theaters. A condensed version was later published in book form. In 2008, The Perils of Pauline was selected by the Library of Congress for the United States National Film Registry, as being "culturally, historically, or aesthetically significant".
Contrary to popular belief Pauline was never tied to a railroad track. That happened in a Keystone comedy called "Teddy at the Throttle" 1917 and a similar scene also occurred in an earlier Keystone comedy called "Barney Oldfield's Race for a Life" 1913.
I wasn't exactly thrilled with this serial. I expected a little more from it. It started out OK but it got rather repetitive and neither Pauline nor Harry ever seemed to wonder why all these strange men were trying to either kidnap or kill her time after time. There were cowboys and gypsies and pirates after her and her guardian kept encouraging her to do dangerous stuff but neither Pauline nor Harry ever looked at him sideways. It's OK but not great. It could also do with a serious restoration.
Chapter 1 - Trial by Fire Chapter 2 - Goddess of the Far West Chapter 3 - Pirate Treasure Chapter 4 - Deadly Turning Chapter 5 - A Watery Doom Chapter 6 - Shattered Plane Chapter 7 - Tragic Plunge Chapter 8 - Serpent in the Flowers Chapter 9 - Floating Coffin