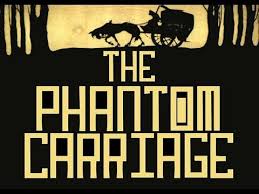 "Lord please let my soul come to maturity before it is reaped."
It is New Year's Eve and Salvation Army Sister Edit (Astrid Holm) is dying. Her last wish is to see David Holm (Victor Sjostrom). There is something she must say to him before she dies.
David is a drunkard. He is in the cemetery drinking with friends. He tells them a story about a friend of his named Georges (Tore Svennberg) who told him the legend of the Phantom Carriage. The carriage is driven by death. He picks up the souls of those that have died during the year. On New Year's Eve the last person to die before midnight becomes the driver of the carriage for the next year. He says that his friend Georges died last New Year's Eve.
When David is found he refuses to go see the Sister and continues drinking in the cemetery with his friends. His friends get into an argument with him and one of them hits him on the head with a bottle. David falls down and his friends flee in a panic. The Phantom Carriage appears and the driver is Georges. Georges is ready to give over the reins to David. David doesn't want to be death's driver. In flashback Georges takes David through his life and of all the bad decisions he made to get himself to the point where he is now.
At one time David had a good life with a wife, Anna (Hilda Borgstrom), his two daughters and a brother (Einar Axelsson), but George's influence and alcohol brought David to the point of being put in jail for drunkenness. While he was in jail his brother killed a man in a drunken stupor because of David's influence and now will be in prison for a long time. His wife left with the kids and when he was released and went home, the apartment was empty. Vowing to find them David travels all over Sweden.
By the time he met Sister Edit he was a heartless, selfish drunkard. Thinking she was doing a good deed Edit brought David and Anna together again. By now David's only thoughts are of revenge. He continues his drinking and taking his rage out on his family.
Now as one of the dead, David is beginning to realize what he has done to himself and to the people that once loved him.
"The Phantom Carriage" was released in 1921 and was directed by Victor Sjostrom. It is a Swedish silent film, part horror and part fantasy. It is based on the novel "Thy Soul Shall Bear Witness" by Selma Lagerlof. It is also known as "The Phantom Chariot", "Thy Soul Shall Bear Witness!" and "The Stroke of Midnight". The movie had its US release in 1922.
The film is a little reminiscent of Dickens' "A Christmas Carol". Instead of Jacob Marley it is David's friend Georges that tries to show him the error of his ways.
The special effects are quite remarkable for such an early film. The scenes where the players are dead are done as double exposures and sometimes more than double exposure in order to get more depth to the dead and the horse and carriage. The scene where Death as Georges is picking up the soul of the drowned man was quite notable. Also the use of flashbacks within flashbacks is also innovative for the time. Supposedly the film was an influence on Ingmar Bergman. Stanley Kubrick's 1980 horror film "The Shining" features several thematic similarities. Also the famous axe wielding scene with Jack Nicholson breaking through a wooden door comes from this movie.
The film has had some restoration done. The ending result is a haunting mesmerizing story. The film and its director Sjostrom were hailed as one of the central works in the history of Swedish cinema. I couldn't agree more.