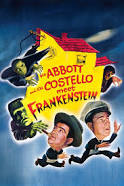 Welcome to McDougal's House of Horrors.
The Abbott & Costello monster movies are in reality comedies with monster characters in them. Regardless of their genre they still have some great horror characters and horror stars. In that regard they are worth looking at and collecting. Especially if you collect movies based certain characters or actors. In that regard "Abbott & Costello meet Frankenstein" released in 1948 is probably the best known and the first of the horror vehicles for the duo.
In "Abbott & Costello meet Frankenstein" Lou is Wilbur Grey and Bud is Chick Young. They are bumbling freight handlers working for a package delivery company. Sandra Mornay (Lenore Aubert) is Wilbur's girlfriend. Or so he thinks. A call comes in from London. Larry Talbot AKA The Wolfman (Lon Chaney Jr.) tries to warn the delivery company not to deliver any crates coming in for 'McDougal's House of Horrors", however, the moon comes up and he turns into a werewolf.
The two giant crates come in for "McDougal's House of Horrors". One is supposed to be the remains of Dracula (Bela Lugosi) and the other the Frankenstein Monster (Glenn Strange). Wilbur and Chick deliver the two crates to the House of Horrors that night. They open the crates. The first one contains a coffin. The second contains the monster. Dracula rises from his coffin and takes the weakened monster with him. When McDougal and the insurance agent show up both crates are empty. McDougal accuses the guys of theft and has them arrested.
Dracula and Frankenstein's monster are hiding at Mornay's castle. Dracula and Mornay want to bring the monster back to full capacity by using the brain of someone pliable, Wilbur. Joan Raymond (Jane Randolph) is an undercover agent investigating the theft of the two exhibits. She arranged to have Wilbur and Chick released from jail.
That night there is a masquerade ball. Everyone ends up at Mornay's castle. Larry Talbot wants to kill Dracula and the Monster. Joan Raymond wants to find the two missing exhibits. Dracula and Mornay want to steal Wilbur's brain, and Wilbur and Chick are just too stupid to live.
This movie has not only Glenn Strange as Frankenstein but Lon Chaney Jr. as the Wolfman (the only one to play the Wolfman for Universal Studios) and Bela Lugosi as Dracula. This is the second time Lugosi has played the character Dracula, and the last. Walter Lanz (from Woody Woodpecker fame) did the animation sequence where Dracula changes from bat to Dracula and vise versa. Monster make-up was done by Bud Westmore.
The working title for the movie was "The Brain of Frankenstein", however, since it is primarily a comedy the name was changed to capitalize on Bud and Lou's cinema value. The director of the movie was Charles Barton.
Whether you're a Bud and Lou fan or a monster fan there is something for everyone in this menagerie of genres and characters.