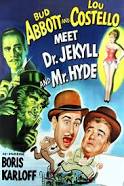 You're capable of doing everything he said you did.
There has been a rash of murders in London. A newspaper reporter by the name of Bruce Adams (Craig Stevens) finds one of the victims. The next day 2 American policeman Slim (Abbott) and Tubby (Costello) working for the London police force respond to a fight at a woman's suffrage rally in Hyde Park. Of course everything goes to hell in a hand basket and Slim and Tubby get fired. On the other hand Bruce finds himself attracted to a young Suffragette Vicky Edwards (Helen Westcott). She is the ward of Dr. Henry Jekyll (Boris Karloff). Jekyll, being in love with his ward, sees the attraction between them and becomes jealous. Jekyll has created a serum that changes him to Mr. Hyde. Intent on murdering Bruce, Jekyll injects himself and transforms into Hyde.
In the meantime Slim and Tubby figure that if they can capture the murderer they may be able to get their jobs back. They see Hyde going into the theater and chase after him. Most of the rest of the movie is Hyde chasing Slim and Tubby or Slim and Tubby chasing Hyde. A lot of slapstick a lot of pratfalls and a lot of jokes.
Directed by Charles Lamont and released in 1953 "Abbott & Costello Meet Dr. Jekyll and Mr. Hyde" is the third in the series of the Abbott and Costello comedy horror movies and the second of the duo's movies to star Boris Karloff. Although "Abbott and Costello meet the Killer Boris Karloff" was done two years earlier it was considered more of a mystery than a horror movie especially since none of the iconic "Universal Monsters" were in it.
That being said Dr. Jekyll and Mr. Hyde is technically not a Universal monster either. Although Universal did do a Jekyll and Hyde movie in 1913 starring King Baggot and directed by Herbert Brenon and Carl Laemmle the most famous of the earlier Jekyll and Hyde movies was done by Paramount in 1931 and stared Fredreic March who earned an academy award. John Barrymore also played him for Paramount in 1920. Both the 1913 Universal movie and 1920 Paramount movies were silent. Jekyll and Hyde was also done by MGM in 1941 staring Spencer Tracy, Ingred Bergman and Lana Turner. Nothing to sneeze at there either.
In actuality Boris Karloff only played Dr. Jekyll. Once the transformation was done a stunt man, Eddie Parker, played Mr. Hyde. As for this movie I have to say that I am a little partial to it since I am a Boris Karloff fan. So Abbott and Costello fans, Boris Karloff fans, Jekyll and Hyde fans or just plain monster fans you may want to consider this as an addition to your collection.