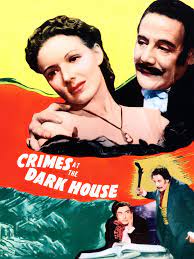 Sir Percival Glyde is murdered in Australia by a fellow gold prospector who assumes the man's identity. The fake Percival (Tod Slaughter) steals the dead man's signet ring and correspondence. In the correspondence is a letter telling Percival that his father died and that he needs to return to England to take over the family estate, Blackwater Park. When fake Percival arrives in England, he learns that the estate is bankrupt and in debt. As a silver lining, he is told that there is supposed to be an arranged marriage between him and the very wealthy Laurie Fairlie (Sylvia Marriott), the niece of the prominent and rich, Fredrick Fairlie (David Horne). Laurie is in love with her art teacher, Paul Hartwright (Geoffrey Wardwell), and doesn't want to marry Percival, but has no choice in the matter.
In the meantime, the fake Percival is approached by Dr. Isidor Fosco (Hay Petrie) and Mrs. Catherick (Elsie Wagstaff). They tell him that he and Mrs. Catherick had an affair that resulted in the birth of a daughter, Anne (Sylvia Marriott). The daughter, being unbalanced, now lives in Dr. Fosco's mental asylum. Fosco and Mrs. Catherick realize that Percival is a fake but are hoping to cash in on the fake Percival's marriage to Laurie by blackmailing him. Not long after that, Anne escapes from the asylum. Anne begins haunting the estate so, knowing that she is devoted to her mother, Percival kills Mrs. Catherick to try to draw Anne out into the open. Fosco is aware of all most of Percival's secrets and begins his blackmail scheme.
In addition, fake Percival has an affair with a chambermaid, Jessica (Rita Grant) and gets her pregnant. To get out of marrying her, fake Percival kills her.
Laurie and fake Percival marry but Laurie refuses to sign over her estate to her husband. With Fosco's help, Percival captures Anne, who has come down with pneumonia. When he sees that she is the spitting image of Laurie he hatches a diabolical plan. Let Anne die of pneumonia and pretend that she is Laurie. Then put Laurie in the asylum and pretend she is Anne. That way he can inherit Laurie's wealth.
"Crimes at the Dark House" was released in 1940 and was directed by George King. It is a British crime drama. Some call it melodramatic, I call it overdramatic.
The star of the movie is Tod Slaughter. He made a bunch of films in the thirties and early forties. Many of which have been long forgotten. Recently he has become a sort of cult favorite with his melodramatic films. His works are sometimes referred to as "cinema of excess". He reminds me, especially in this film, of the character Snidely Whiplash in the old Rocky and Bullwinkle cartoons. Slaughter is the epitome of the evil villain, especially with his malevolent laugh. His over-the-top acting makes him perfect for this role.
Slaughter is not one of my favorites, but he does have a way of taking a role and milking it for all it is worth. In this case he does it with flourish. I ended up enjoying it more than I should have. If you are looking for a good mustache twirling evil villain and a movie full of murder and mayhem, this is it.
The movie is very loosely based on "The Woman in White", an 1859 novel by Wilkie Collins.