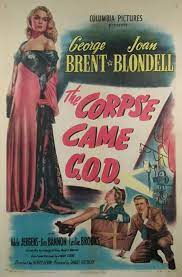 Mona Harrison (Adele Jergens) is a glamorous movie star.  At her home she receives a box from Hector Rose (Cosmo Sardo), the costume designer for Palisades Studios.  Mona is expecting some fabric from Rose but is upset that he sent it to her C.O.D.  She assumes it was because they had a fight the previous day and this is his way of saying screw you.  When her butler, Fields (William Trenk), pries open the crate Rose himself tumbles out, dead as a doornail.  Mona's first impulse is to call her wanna be boyfriend, Joe Medford (George Brent).  Joe is also a reporter for a major newspaper.
Joe first gets pictures of the body for his paper and then calls Detective Lt. Mark Wilson (Jim Bannon) at the police department to report the murder.  He then goes to Rose's office at Palisades Studios to look for clues.  He runs into rival reporter, Rosemary Durant (Joan Blondell), who works for a competing newspaper.  Joe then heads for Rose's house to check for clues there.  He is attacked by an unseen assailant.  Rosemary shows up mid-tussle and calls the cops.  When the lights finally come back on Rose's assistant, Maxwell Kenyon (Wilton Graff) is unconscious on the floor.  Joe says that Kenyon knocked him out, so he has no idea who slugged Kenyon or what they were looking for.
Eventually Joe suspects that Rose was involved in smuggling.  But before he can follow that lead there is another murder.  With Rosemary doing her own investigation their paths continue to cross.  As they try to step on each other's stories they end up falling for each other, uncovering a diamond smuggling ring and a murderer.     
"The Corpse Came C.O.D." was released in 1947 and was directed by Henry Levin.  It is an American comedy mystery film.  The movie is based on a novel by American screenwriter and columnist Jimmy Starr.  Starr has a cameo in the movie.  The movie also features cameos by actual Hollywood gossip columnists of the day.  Appearing as themselves are Harrison Carroll, Jimmy Fidler, George Fisher, Hedda Hopper, Erskine Johnson, Louella Parsons, and Sidney Skolsky.
In the forties, mystery movies came in mostly two flavors, noir, and comedy.  This one is of the latter.   The dueling boy-girl reporters scenario has been done several times before.   For a standard comedy style mystery, it is a little above average.  Joan Blondell as the spunky gal reporter is more enjoyable than I expected.  Her snarky attitude and comedic timing add quite a bit to the stock story.  It is fast paced and as an added plus contains a decent plot and enough mystery to keep you interested.  The who-done-it isn't all that elusive, but you might want to stay to the end, just to make sure.