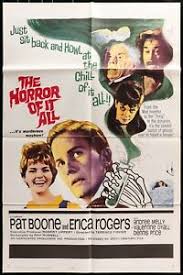 "And while I'm afraid he is an American, nevertheless, I think you'll find him very palatable."
Jack Robinson (Pat Boone) is an American on his way to visit his fiancée Cynthia Marley (Erica Rogers) at her family estate in England when he gets lost and then has car trouble. Trying to push it to get it started he accidentally pushes it off a cliff. Now he's on foot. In the distance he sees a large mansion so he heads for it looking for help. The house he stumbles on ends up being the house he's looking for. Cynthia's uncle Reginald Marley (Valentine Dyall) greets him at the door.
Jack is there to ask Cynthia's uncle for her hand in marriage. Cynthia is happy to see him; however, he has come at an inopportune time. Cynthia's uncle Creighton died the night before. The Marley family is an eccentric one. In addition to Reginald is Cynthia's other uncle Percival Marley (Jack Bligh) the inventor, Cornwallis Marley (Dennis Price) the ham actor, creepy cousin Natalia Marley (Andree Melly), Natalia's insane brother Muldoon Marley (Archie Duncan) and mostly deaf, bedridden Grandpa Marley (Erik Chitty).
Jack is invited to stay at the estate and is given a room. He gets spooked when he finds a tarantula in his bed. The next day Cornwallis dies while drinking a toast. After that there are more attempts on Jack's life and the other Marley's start dropping like flies. When Jack learns that the family estate is worth at least a million dollars he knows why it's open season on Marley's but finding the hunter is another story.
"The Horror of it All" was released in 1964 and was directed by Terence Fisher. It is a British horror dark comedy movie and an old dark house film. It is based on J.B. Priestley's novel "The Old Dark House". The movie is basically the British version of Universal's and William Castle's adaptation of "The Old Dark House" that was released the year before in 1963.
Director Terence Fisher left Hammer Productions and went to work for Lippert Pictures for awhile. He did a few movies before going back to Hammer. This is probably one of his worst films and the one most forgotten. I'm not sure if it's because he's away from Hammer's budget or if he just has problems with comedy.
Although not a great film I liked it more than its predecessor from William Castle. Boone has more energy than Tom Poston did. The film is not exactly funny or horrifying. Valentine Dyall is the creepiest thing in the film. Andree Melly is a close second with her Barbara Steele eyeballs.
If you're patient you get to hear Pat Boone sing. The song "The Horror of it All" was written and sung by Boone.
I will say that I was charmed by Uncle Percival. More eccentric than some, he spends his time inventing things that were invented a hundred years ago except his inventions don't always work very well. His incandescent light that works on electricity, his moving photographs, his phonograph player and his horseless carriage are his prides and joys.
If you're a fan of Pat Boone, Valentine Dyall or if you like the sixties style of genre blending you may enjoy it. Other than that there's not much to recommend the movie.