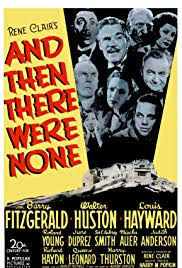 "Silence Please! Ladies and Gentlemen, this is your host Mr. Owen speaking."
Mr. and Mrs. U.N. Owen have invited 8 guests for dinner to their estate on a remote island. On the boat to the island are; General John Mandrake (C. Aubrey Smith), Emily Brent (Judith Anderson), Dr. Edward G. Armstrong (Walter Huston), Prince Nikita Starloff (Mischa Auer), Vera Claythorne (June Duprez), who is Mrs. Owens newly hired secretary, Judge Francis J. Quinncannon (Barry Fitzgerald), Philip Lombard (Louis Hayward) and William H. Blore (Roland Young). When they get to the island they are met by two servants, Thomas (Richard Haydn) and Ethel Rogers (Queenie Leonard). Their hosts are nowhere in sight.
After dinner Rogers puts on a phonograph record as instructed by his employer. The voice on the record accuses each of the guests and employees of being responsible for the death of one or more other people and for getting away with their individual crimes. Conversation after dinner reveals that none of the guests or servants has actually met their hosts. All just received letters of invitation or with instructions for one reason of another. They also learn that there is no way off the island and away from danger until the boat returns on Monday and this is only Friday. The guests are perplexed until one of them falls dead.
Outrage is quickly replaced by suspicion and accusations. Then the fear that perhaps Mr. Owen is on the island or even that he is really one of the 10 people in the room. Well 9 now. Everyone's fears are justified when one by one guests, and employees alike, are murdered in ways reminiscent to a children's nursery rhyme.
"And Then There Were None" was released in 1945 and was directed by Rene Clair. The movie is based on the 1939 story by Agatha Christie. As with any movie based on a book there are things that were changed. If you are a Christie fanatic and absolutely love her books as they are, just don't watch the movie or any movie based on any of Christie's stories. There will be things changed and you will be annoyed, outraged, disappointed, whatever. Hollywood does that to a person. As a matter of fact, don't watch any movie based on any book or story cause there will be changes.
All that being said, and out of my system, the movie is actually not based on the book so much as it is based on the play. And the stage adaptation was written by Agatha Christie. Believing that audiences were more inclined to see a play with a brighter ending she reworked her novel to incorporate the brighter ending and intjected some romance.
As for the movie it has a great cast, good acting, a little humor and, especially, all of Agatha's original mystery. It is the quintessential Old Dark House mystery with lots of murders done in lots of different ways. A very good adaptation of the story.
The book "And Then There Were None" was originally titled "Ten Little N-----"(N word), later it was re-titled "And Then There Were None", and also titled "Ten Little Indians". The original novel was centered around a murder mystery based on an infamous blackface minstrel song, which describes a group of people who die under strange circumstances one by one. Due to the 1939 overtly racist original title, the book was re-titled "And Then There Were None" in 1940, and it was also published as (also overtly racist) "Ten Little Indians" in 1964. The book's original title is not the only reason it is a highly controversial piece of writing. Racism and Orientalism are found throughout the novel, and some non-US publications still use versions of the original title.