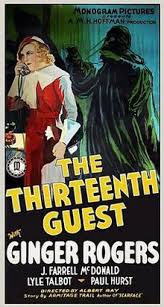 On her 21st birthday Marie Morgan (Ginger Rogers) appears at her family homestead. The home has been unoccupied for the last thirteen years. She finds the electricity turned on and the phones working. The family dinner table is as it was thirteen years ago. That night there was a dinner party. She was a child at the time. The table had been set for thirteen people. Marie reconstructs in her head who was there and where they were sitting. Only twelve people showed up. The thirteenth did not. The purpose of the dinner party was to hear about her father's will. It was also the night her father died. His instructions brought her to the family home these thirteen years later. His will stated that the estate would go to the thirteenth guest.
Suddenly there is a scream and a gun shot. The cab waiting outside races off to summon the police. When they arrive they find Marie sitting at the dinner table dead. She had been electrocuted. The Police Captain Ryan (J. Farrell MacDonald) summons Phil Winston (Lyle Talbot), a private investigator to assist with the investigation.
Winston has the police round up Marie's Brother Harold Morgan (James Eagles) and his friend Thor Jensen (Eddie Phillips). They suggest that Winston talk to the family lawyer Robert Barksdale (Robert Klein). When the police go looking for Barksdale he is also found dead and at the family dinner table, in the seat he had occupied the night of the original dinner.
While investigating this latest murder, Marie turns up alive and well. Winston deduces that a double impersonating Marie was killed by mistake. Marie was the beneficiary of her father's will. Someone wanted to use the double in Marie's place but someone else killed her by mistake. He believes that there are two factions going on. Both are after Marie's estate and both are not above murder.
"The Thirteenth Guest" was released in 1932 and was directed by Albert Ray. It is a low budget "B" mystery movie made by Monogram Pictures. It was based on the 1929 novel by crime fiction writer Armitage Trail. It's basically a version of an "Old Dark House" mystery. It is also pre-code. Not that there is anything in it that would go against the code as far as I could see other than the electrocution aspect.
The story is interesting and the acting good. Talbot is a little on the pompous side but not enough to hate him. There is also one police officer as comic relief that is neither comedic nor relief. The film would have been better without him. The plot is a little involved. There are parts that could be a little confusing if you are not paying attention. Otherwise it's a fun little who-done-it.
The film was remade in 1943 as "The Mystery of the Thirteenth Guest" again by Monogram.