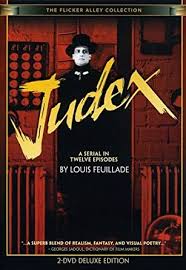 Favraux (Louis Leubas) is a ruthless and crooked banker. He receives eerie notes from a man that calls himself Judex. Judex (Rene Creste) threatens Favraux with death if he does not atone for his crimes and give half of his wealth to the Public Assistance Bureau. Favraux hires detective Cocantin (Marcel Levesque) to protect him and find Judex. When Favraux doesn't respond to Judex's ultimatum he is poisoned. When his daughter Jacqueline Aubry (Yvette Andreyor) finds out how evil her father really was she gives all her inherited wealth to the poor and dismisses all her servants including her son's governess Marie Verdier (Musidora), who is in reality a con artist named Diana Monti who had been trying to seduce Favraux into marriage.
Jacqueline sends her son Jean (Olinda Mano) to the country to live with foster parents while she stays in the city to find work. Jacqueline changes her name to Jeanne Bertin, gets a room at a boarding house and gets work teaching and giving piano lessons. One of her students is Gisele (Juliette Clarens). Gisele's brother Cesar is in love with Jacqueline. When he tries to force himself on her she spurns him. Depressed Cesar confides his stupidity to criminals Diana Monti and her co-hort Robert Morales (Jean Devalde). Morales suggests, for a price, that they kidnap Jacqueline and then Cesar can come to the rescue and save her. Once Morales and Monti have Jacqueline they up the charge for taking her or they will expose him as the instigator. When Jacqueline gave away her father's fortune she garnered the favor of Judex. Judex, through an unusual happenstance, comes to her rescue.
In the meantime Favraux is not really dead but held captive by Judex, who is in reality Jacques de Tremeuse. He and his brother Roger (Edouard Mathe) seek revenge believing Favraux is responsible for their father's death. Monti and Morales discover that Favraux's body is missing from his tomb and deduce that he is not really dead. In talking to Favraux's detective Cocantin they learn that if they can find and free Favraux it will prove he is not dead and the Public Assistance Bureau will have to return his money. Monti has eyes on Favraux's estate and will do whatever is necessary to get it. Judex has fallen in love with Jacqueline and will do whatever is necessary to protect her.
"Judex" was released in 1916 and was directed by Louis Feuillade. It is a twelve part silent French serial. The name Judex is Latin for judge or justice. The character is a vigilante and reportedly the inspiration for characters such as "The Shadow" and "Batman". The serial is advertised as a twelve chapter story but there is also a thirty-six minute prologue and a five and a quarter minute epilogue. Altogether the serial is about five hours and twelve minutes long.
Though Judex was made in 1914, the outbreak of World War I delayed its release. It was finally released in 1916. It subsequently had a wider release in 1918. A sequel silent serial was released in 1918 titled "The New Mission of Judex" (La Nouvelle Mission de Judex). There were also talkie movie remakes done in 1934 by Feuillade's son-in-law Maurice Champreux and in 1963 by Georges Franju.
It is not exactly your normal serial. There are really no cliff hangers. You won't find lots of action sequences or fistfights. Writer/director Louis Feuillade is a renowned French filmmaker with over 700 short and medium films to his credit. He is considered the most prolific film director in history, not counting television directors. Feuillade is also responsible for the silent serials "Fantomas" 1913 and "Les Vampires" 1915.
Feuillade concentrates more on character development to move his stories along. His characters are complex and multifaceted. You watch not to find out what the next twist or event is but to see how the characters react and adapt to the twist or event. Although Judex is the main character of the film, others, like the detective Cocantin and the street urchin "the Licorice Kid" dominate when they are on screen. If you have five plus hours to spare, this is probably the best way you could spend it.
The part of Jacqueline's son Jean was played by a girl. This was common practice in the old days. Since girls were smaller they could play the parts of younger boys and handle more difficult parts.
Chapter Titles French/English: 00 – Prologue 01 - L'ombre mystérieuse (The Mysterious Shadow) 02 - L'expiation (Atonement) 03 - La meute fantastique (The Fantastic Hounds) 04 - Le secret de la tombe (The Secret of the Tomb) 05 - Le moulin tragique (The Tragic Mill) 06 - Le môme réglisse (The Licorice Kid) 07 - La femme en noir (The Woman in Black) 08 - Les souterrains du Château-Rouge (The Dungeons of the Chateau Rouge) 09 - Lorsque l'enfant parut (When the Child Appears) 10 - Le coeur de Jacqueline (The Heart of Jacqueline) 11 - L'Ondine (The Water Sprite) 12 - Le pardon d'amour (The Forgiveness of Love) xx - Epilogue - 5 min. 24 sec.
Prologue
Episode 1
Episode 2
Episode 3
Episode 4
Episode 5
Episode 6
Episode 7
Episode 8
Episode 9
Episode 10
Episode 11
Episode 12
Epilogue