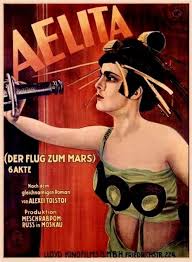 It is 1921 during the Russian famine. All over the world a mysterious message is received by different countries. The message says "Anta Odeli Uta". In Moscow someone jokingly suggests that the message may have come from Mars. The object of the joke is Engineer Los (Nikolai Tsereteli). Los has been obsessed with the idea of going to Mars.
On Mars Queen Aelita (Yuliya Solntseva) and her maid Ihoshka (Aleksandra Peregonets) eavesdrop on Tuskub (Konstantin Eggert), the ruler of Mars and Gol (Yuri Zavadsky), the Radiant Energy Tower Guardian about a new telescope that can look in on what is happening on Earth. Aelita wants to see the telescope and look at the strange planet. She talks Gol into letting her view Earth. Aelita becomes fascinated with Los and what is going on down on Earth while on Mars the slave labor that is not needed are put into cold storage while not in use.
While Los is busy with his plans to make a rocket ship that will take him to Mars his wife Natasha (Valentina Kuindzhi) is being bothered by Viktor Erlikh (Pavel Pol). Erlikh was a well to do playboy before the war. Now he is relegated to a minor position in the government and deals in a little black market sugar on the side. Los becomes jealous of the attention Natasha is getting from the interloper.
Unknown to everyone, Los' friend Evguieni Spiridinov (Nikolai Tsereteli) is being cheated by Erlikh. Eventually Spiridinov decides he needs to leave Moscow quietly. A wanna be detective named Kravtsov (Igor Ilyinsky) begins his own investigation into the disappearance of Spiridinov and the black market sugar. When Los' jealousy over Erlikh boils over he shoots Natasha, disguises himself as Spiridinov and prepares his rocket ship for Mars.
Gusev (Nikolay Batalov) use to be a Red Army soldier. Now that the war is over he finds himself at loose ends. When he sees the rocket ship being readied for takeoff he volunteers to go to Mars with Los. While they are preparing to take off Kravtsov, thinking he is following Spiridnov's trail, ends up on the rocket ship as well. Kravtsov, Los and Gusev are now on their way to Mars.
"Aelita: Queen of Mars" was released in 1924 and was directed by Yakov Protazanov. It is a Russian silent film and a science fiction movie. It was based on Alexei Tolstoy's 1923 novel of the same name. This was director Yakov Protazanov's first film after returning to the Soviet Union from his exile in Paris. It is one of the earliest full-length films about space travel.
The movie was a big hit in the Soviet Union. During the movie's popularity the name Aelita became a fashionable name that parents gave their baby girls. Eventually the film fell out of favor with the Soviet government and ended up being very difficult to see until after the Cold War. For the most part I consider it propaganda.
There are a lot of odd angles in the clothing and architecture of Martian buildings. Apparently Martians like triangles. The look is quite Constructivist. Although the scenes on Mars are more visually interesting most of the film deals with the regular day to day events during the Russian famine. It can be confusing at times as there are sub-plots and daydreams that aren't always explained. You pretty much have to just go with it until you get to the end and figure out if it was worth going through all the sub-plots to get to the end.
I had hopes for the film but, all said and done, it left me a little let down. I also had issues with the anti-hero Los. His jealousy rises to the point where he shoots his wife. I had a lot of issues with the story and some of the outcomes of the sub-plots. The film, like life in the twenties, is quite misogynistic. It's worth viewing for the sets and outlandish fashions on Mars and for the historic value but don't expect it to be the film of the century.
Russian Constructivism was an artistic and architectural philosophy that originated in Russia beginning in 1915 by Vladimir Tatlin and Alexander Rodchenko. The look is quite industrial and abstract. Geometric forms were used to basically build art not create it. It was an attempt to reflect the modern industrial world. Its influence comes from Picasso's cubist constructions but stripped down to its basic essentials. For the most part it's boring but in the film it works. It's like "Metropolis" 1927 done with a protractor and compass. Geometry as art.