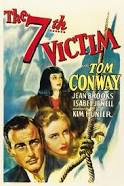 "Since our order was founded, six betrayals have been listed."
Mary Gibson (Kim Hunter) is a student of the Highcliffe Academy. It is a Catholic boarding school. Her older sister Jacqueline (Jean Brooks) is her guardian. She is called into the Dean's office. The Dean tells that her tuition has not been paid in months and they have not been able to contact her sister. Mary decides she must go to New York City and find Jacqueline. She starts at La Sagesse, the cosmetic company her sister owns.
In New York Mary finds out that Jacqueline sold her cosmetics business to Esther Redi (Mary Newton). She also learns from an employee of the company that she was seen at an Italian restaurant called Dante's the week before. Mary visits the restaurant and discovers that Jacqueline has rented a room above the store but never moved in. She convinces the owners to let her see the room. All she finds inside is a wooden chair and above it a noose hanging from the ceiling.
Mary's search leads her to several clues. She finds Gregory Ward (Hugh Beaumont), Jacqueline's husband, Dr. Louis Judd (Tom Conway), Jacqueline's psychiatrist, Jason Hoag (Erford Gage), a poet and friend of Jacqueline's. Irving August (Lou Lubin) is a private detective that becomes interested in the case. On his own he also searches for Jacqueline. He gets stabbed for his efforts. Mary also finds out that Jacqueline had been a member of a satanic cult that she was trying to escape. Dr. Judd was trying to help her. She also learns that Jacqueline is the one who stabbed and killed August. Jacqueline had been kidnapped and was locked in a room at the cosmetic company. They were trying to convince her to kill herself for revealing the existence of the cult. Thinking August was one of the Satanists she stabbed him. Now that she is away from their clutches the cult needs to silence her. Now a hit man is stalking Jacqueline through the streets of New York.
"The 7th Victim" was released in 1943 and was directed by Mark Robson. The movie was produced by Val Lewton and is considered a film noir. It was the fourth film that Lewton produced for RKO studios.
One of the things that set this film apart from others of the 40's era is the break from the normal sexist tropes of other films. Mary may appear to be young and naïve, but she is also determined and self aware. Many of the women in the movie are strong. Before Jacqueline became embroiled in the cult she was a dynamic woman who owned a company and did whatever she wanted. The women are basically feminists. It's also known for homoerotic undertones. The undertones are very subtle. Once it's pointed out to you it becomes a little more obvious. When you look closer, the relationship between Jacqueline and Frances seems to be more the point of the movie than the Satanism. It's probably why the movie didn't do well at the box office when it was first released. It went over everybody's head.
It did seem a little bizarre that so many Satanists were squeamish about killing someone. It's the most pathetic cult I've ever heard of. To me the point of that plot devise is moot since everyone Jacqueline knows, that is outside of the cult, already knows about it, and everyone who is in it.
All in all the two main points of the movie, Satanism and, to a lesser degree, the lesbianism, are the least interesting aspects of the whole movie. More like window dressing. I found that the noir aspects were the best part.