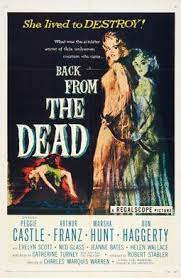 Kate Hazelton (Marsha Hunt) is visiting her pregnant sister Mandy Anthony (Peggie Castle) and Mandy's husband Dick (Arthur Franz) on the California coast. Mandy has been acting a little strange lately. She admits to her sister that she feels as if something was trying to get at her. She's been uneasy and afraid for awhile now. One night Dick puts a record on that Mandy has a reaction to. She has an epileptic seizure causing her to lose the baby. The doctor gives her a sedative and has a nurse keep an eye on her.
When Mandy wakes up she claims to be a woman named Felicia. She calls Dick "Dickens". Dick is taken aback by Mandy's statement. Kate is confused by what is going on. Dick tells her that Felicia was his first wife who died six years ago. Felicia use to call him Dickens. He also tells Kate that Mandy never knew that he was married before or anything about Felicia.
While out riding, the now Felicia, insists on visiting the Bradleys, people that Mandy shouldn't know. Dick tells Kate that Mr. Bradley (James Bell) and his wife Ada (Helen Wallace) were Felicia's parents. Mandy convinces Ada that she is really Felicia. Kate learns that Ada and Felicia were involved in a cult. Kate is not happy about Felicia taking over her sister's body. Dick admits that by the time Felicia died she was evil. As if to prove it, Felicia tries to kill Kate by turning on the gas in her bedroom. Kate survives the attempt but is now pretty well convinced that her sister is no longer her sister.
Kate learns that a man named Maitre Renault (Otto Reichow) was the leader of the cult that Felicia and Ada belonged to. She goes to Renault looking for help in returning Mandy to her body. She tells him that Mrs. Reynolds is responsible for Felicia coming back. Renault is angry that Ada went behind his back and promises to help. In reality he wants Felicia to himself. Now Kate is up against the leader of the cult himself but she is determined to do whatever is necessary to exorcise Felicia and bring Mandy back.
"Back From the Dead" was released in 1957 and was directed by Charles Marquis Warren. It is a paranormal thriller and was based on the book "The Other One" by Catherine Turney. This is a rather obscure little film. There are DVD-R copies out there but I'm not aware of any official release. Picture quality is a little iffy but definitely viewable.
There really isn't a lot of cult activity going on. No high masses with lots of robe wearing minions chanting. There is a preamble with a couple robed people tossing a dead body over a cliff but then nothing is ever mentioned about it again until the one interrupted ritual at the end. The film relies more on the relationship between the characters and their reactions to the creepy thing going on with Mandy.
Not to be a spoiled sport but other than the woman tossed over the cliff in the beginning of the film and Felicia, the only death in the movie was the assumed death of Copper, the dog. OK, Mr. Reynolds and perhaps even Mrs. Reynolds. They supposedly killed each other but that was off screen and it's not real clear how they died. You're led to believe in some kind of battle between good and evil but you don't get to see it.
Although the movie isn't that great it does have some eerie atmosphere to help compensate for the weak plot. Waves crashing on a California coastline are always a hint that something creepy is going to happen. Add in a nice cliff or two and things get kicked up a notch. It plays more like a melodrama than a horror movie but there are enough wee-ooo moments to make it entertaining.