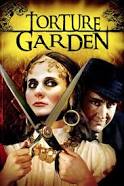 "What you have seen are imaginary horrors. But now I can let you experience real ones."
Dr. Diabolo (Burgess Meredith) is a sideshow barker. He runs a haunted house style attraction at a fairground. People are visiting the sideshow. Dr. Diabolo is showing them various torture devises. He then promises each one a special scary experience, just for them, for a small additional charge. Five people are intrigued at the prospect. They follow him behind the curtain. Each in turn views their fate through the shears of an effigy. The effigy is of a female deity called Atropos (Clytie Jessop).
The first story is "Enoch". Colin Williams (Michael Bryant) is a greedy playboy who is always in need of money. His uncle is dying and he is the only heir. He is summoned to visit his uncle. Believing his uncle has hidden money in the house he questions him. The uncle gets upset and has a seizure. Colin holds back his uncle's medicine and allows him to die. Now that he has possession of the house he begins a search for the hidden money. But he finds more than he has bargained for.
In "Terror Over Hollywood" A Hollywood starlet Carla Hayes (Beverly Adams) will do anything to become a star. But when she discovers what she needs to do to get what she wants it could be more than she is willing to sacrifice.
Story three is "Mr. Steinway". Leo Winston (John Standing) talks to his piano. The piano's name is Euterpe. It was a gift from his mother and apparently it is possessed by the spirit of his mother. And mother doesn't like her son's new love, Dorothy Endicott (Barbara Ewing), and takes revenge.
In "The Man Who Collected Poe", a rabid Poe collector Ronald Wyatt (Jack Palance) is infatuated with the collection possessed by another Poe fanatic Lancelot Canning (Peter Cushing). Wanting to know the ultimate possession that Lancelot owns Wyatt murders the other collector. He then finds out the ultimate possession comes with a hefty price.
"Torture Garden" was released in 1967 and was directed by Freddie Francis. It is a British film by Amicus and basically it is an anthology of omnibus portmanteau style of stories written by Robert Bloch. There are four stories involved. And everyone deserves whatever they get.
When this movie was shown in 1967, one of the promos was a pack of torture garden seeds given to patrons as they entered the theater. The seeds were actually grass seeds. The film was meant to star Peter Cushing and Christopher Lee; however, Columbia, which was providing the budget, wanted two American names, and this led to Palance and Meredith's casting.
It's an average collection of stories. Amicus did several anthologies. At least 7 that I know of over the years. Torture Garden was their second. My favorite story was the first one. But then, I favor cats over people.