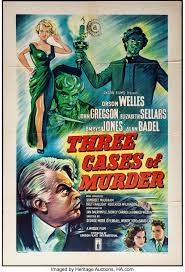 Eamonn Andrews introduces three tales of murder. "The Picture", "You Killed Elizabeth" and "Lord Mountdrago".
Mr. Jarvis (Hugh Pryse) is a tour guide at a museum. One of the pictures in the museum captivates him. It is a landscape with an old house in it. Lately the glass covering the painting has been getting smashed. There have also been some thefts of other art objects. After showing a group around he again sees the glass broken. Sitting and looking at the picture is a man (Alan Badel). Jarvis and Mister X get into a conversation about the painting and that a light in the window would make the house looked lived in. Mister X takes Jarvis into the painting to see what is inside the house. Living in the house is a woman (Laueen MacGrath) and Mr. Snyder (Eddie Byrne). Jarvis comes to find out that finding out what's behind the façade is not always a good thing. In fact it can be murder.
In the second story Edgar (John Gregson) and George (Emrys Jones) were childhood friends. They went to college together, went into advertising and started a business together. When Edgar drinks too much and mixes his drinks he blacks out. Edgar goes on a business trip. While he is away George meets and falls in love with Elizabeth (Elizabeth Sellars). Eventually Edgar returns and meets Elizabeth. He then manages to take Elizabeth away from George. Edgar and George get into a fight. George tells Edgar that Elizabeth is a loose woman. Edgar gets drunk and blacks out. The next day they hear that Elizabeth was murdered.
The third story takes place in the House of Commons. Lord Mountdrago (Orson Welles) degrades a young politician named Owen (Alan Badel). Later Owen confronts the arrogant Lord and vows to break his spirit. Mountdrago begins to have unusual nightmares. In them he is humiliated in various ways. Also, always in them is Owens laughing. Mountdrago begins to think that Owen has invaded his dreams and is exacting his revenge. Mountdrago decides that the only way he can get rid of Owen is to kill him in his dreams.
"Three Cases of Murder" was released in 1955. "In the Picture" was directed by Wendy Toye, "You Killed Elizabeth" was directed by David Eady and "Lord Mountdrago" was directed by George More O'Ferrall and Orson Welles. The movie is an omnibus anthology.
The main draw of the film, besides Orson Welles, is that the third tale was based on a story written by W. Somerset Maugham. The other two were written by Brett Halliday and Roderick Wilkinson. I've never heard of Wilkinson but Halliday was the pen name for Davis Dresser. Halliday was a mystery and western writer. He wrote many of the Michael Shayne novels.
The film is also noted for Alan Badel having a role in all three stories. In "In the Picture" he plays Mr. X, in "You Killed Elizabeth" he plays Harry the bartender and in "Lord Mountdrago" he plays Owen. All three stories are also about murder, in one way or another. What most people do not note is that one of the stories was directed by a woman in a time where women didn't get to direct very often.
By far my favorite of the three stories was "The Picture" directed by Wendy Toye. That segment had a Twilight Zone feel to it and a paranormal vibe. The second story was OK but more or less a standard who-done-it with a twist. The third was just Orson Welles being Orson Welles.