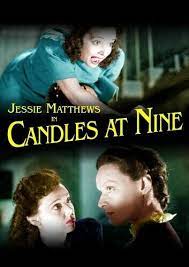 Everard Hope (Eliot Makeham) is a hateful and miserly old man but is also filthy rich.  Everard lives in a large estate called Brakes with his housekeeper, Julia Carberry (Beatrix Lehmann) and his butler, Griggs (John Salew).  He assembles his meager group of relatives together to tell them about his will.  The possible beneficiaries are Garth and Lucille Hope (Joss Ambler and Vera Bogetti), Cecil and Brenda Tempest (Andre Van Gyseghem and Winifred Shotter) and a pair of idiot cousins, Charles and Hugh Lacey (Reginald Purdell and Hugh Dempster).  Everard decides to keep everyone guessing and tells them his solicitor, Middleton (C. Denier Warren) will be there in the morning.  During the night Everard falls down the stairs and dies.  After the funeral the will is read. 
The beneficiary turns out to be a young woman named Dorothea Capper (Jessie Matthews), a distant relative that none of those present have ever heard of.  A stipulation to the will states that Dorothea must take up residence at Breaks within 48 hours of being notified that she is the beneficiary and that she must live there for at least one month.  If she doesn't comply with the requirements then the estate goes to his nearest relative, whom ever that may be.    
Dorothea Capper is a bubbly wanna be singer and actress.  The other beneficiaries begin fawning over her trying to get in her good graces.  William Gordon (John Stuart) is the General Manager of the Turf Commission Agency and a former CID agent.  He suspects that Everard was murdered and is worried about the welfare of Dorothea now that she has inherited the estate.  His fears are well founded when someone tries to do away with the new heiress.     
 "Candles at Nine" was released in 1944 and was directed by John Harlow.  It is a low budget British mystery and a bit of an Old Dark House film.  The movie is based on the 1943 novel "The Mouse Who Wouldn't Play Ball" by Anthony Gilbert, the pen name of Lucy Beatrice Malleson.
You might want to look at it as more of a comedy than a mystery.  It's a little on the silly side and rather dated.  The movie also has a tendency to wander.  It's part mystery, part romcom and part musical.  Added to the rather thin and basic plot are some plot holes.  It's not great by any stretch of the imagination and has so many comedic characters that it has a tendency to be all comedy relief all the time.     
The film's main draw is the vivacious and wide-eyed star, Jessie Matthews.  Matthews has a bit of a cult following so even though the movie is nothing special it does draw those that enjoy her acting.  She also has a small singing and dancing scene.  My favorite character of the film is the evil and murderous housekeeper played by Beatrix Lehmann.  She played Professor Rumford in the story "The Stones of Blood", part of season 16 of the Dr. Who franchise. 
A Turf Commission Agent is a British term for a Bookmaker.  A CID agent is someone who works for the Criminal Investigation Department for the United Kingdom.  The CID is a branch of the Metropolitan police force and is comprised of mostly plainclothes detectives.