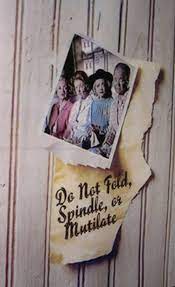 Sophie T. (Helen Hayes), her sister, Evelyn (Myrna Loy), and their friends, Elizabeth (Sylvia Sidney) and Shelby (Mildred Natwick) are four sweet little old ladies.  They have drinks together, have lunch together and play cards together.  To add a little spice to their lives they live vicariously through imaginary people.  For fun they have enrolled in a dating service.  Their imaginary applicant is Rebecca Meade.  She is a twenty-three-year-old blue-eyed blond.  Sophie T. is the instigator of most of their adventures.  Sophie fills out the paperwork and sends it into the dating agency.  They receive a few responses.  They respond telling the potential suitors that circumstances have changed, and Rebecca is returning home to the Midwest.  
One of the responders is Mal Weston (Vince Edwards).  Mal is a wanna be writer and a psychopath.  Since the application didn't have a phone number Mal sends the fictional Rebecca a letter.  He then begins to obsess on this girl he's never met.  Knowing the address of the fictional Rebecca he buys some cheap flowers and sits outside her house waiting for her to come home.  The home is actually the residence of Sophie and Evelyn.  When all he sees is a couple of little old ladies come home, he assumes they are Rebecca's aunts.  Mal gets upset not knowing where Rebecca is.  He cons the operator into giving him the phone number of the address he has for Rebecca.  He calls Rebecca.  When Sophie answers the phone Mal thinks it is Rebecca.  She tries to tell him that she is getting married and moving to Hawaii, but Mal insists that she meet him for a drink.  He won't take no for an answer.
Sophie and the girls go to the bar where Mal expects to meet Rebecca.  They sit where they can see what is going on in the bar.  Sophie wants to see what Mal actually looks like.  When Mal comes in, he sits at the bar.  Soon after that a woman named Brenda (Barbara Davis) comes in and sits at a table.  Mal assumes the girl is Rebecca and approaches her.  Brenda says she has a meeting at six-thirty and doesn't have much time.  They go to Brenda's apartment.  When Mal learns the Brenda is actually a prostitute his is furious and bludgeons her with a candlestick. 
When the ladies find out that the girl they saw Mal with is dead, they decide to investigate themselves to see if it really was Mal they saw with her in the bar.  They end up in more trouble than they bargained for.
"Do Not Fold, Spindle or Mutilate" was released in 1971 and was directed by Ted Post.  It is a made for television comedy mystery.  The movie was based on the book by Doris Miles Disney.  A year later Helen Hayes and Mildred Natwick would be teamed up again for the television series "The Snoop Sisters".  The series had five episodes spread out over a three-year period.
This is one of my favorite made for television movies.  It is funny but also has suspense to it.  With some seasoned pros such as Helen Hays and Myrna Loy on hand you can't go wrong acting wise.  Granted the movie is dated by it's still a blast to watch.    
Way back in the seventies, computer information was punched onto keypunch cards.  The cards were then read by a computer and the information stored.  If the card was damaged in any way the computer couldn't read it.  The instructions, "do not fold, spindle or mutilate" was often printed on either the cards themselves, or any accompanying literature, warning people not to damage them.  The title of the film refers to both the warning on the keypunch cards used by the dating service and the actions the killer subjects women to.