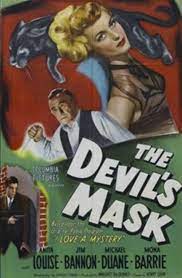 A plane crash results in the discovery of a shrunken head being part of the cargo.  The head was being shipped from the U.S. to South America.  It is unknown where the head came from.  The only exhibit of shrunken heads currently in the U.S. is a group of five heads in the Cordova Museum.  Captain Quinn (Thomas E. Jackson) from the police department is entrusted to take the head to the museum to see if it is one of theirs.  The museum curator, Raymond Halliday (Richard Hale) confirms that all their shrunken heads are accounted for.
At the museum Quinn runs into Jack Packard (Jim Bannon) and Doc Long (Barton Yarborough).  Jack and Doc are private detectives awaiting the arrival of Louise Mitchell (Mona Barrie).  Louise believes she is being followed and that her stepdaughter Janet (Anita Louise) blames her for the death of her father, Quentin Mitchell.  She also believes that Janet is planning to have her boyfriend, Rex Kennedy (Michael Duane), kill her.  Quentin disappeared during an expedition to South America and is believed to be dead.  This is the same expedition that brought back the shrunken heads.  At the time, Quentin was the former museum curator.    
Janet believes that Louise is responsible for Quentin's death because she is having an affair with Quentin's associate, Professor Arthur Logan (Frank Wilcox).  Arthur was also on the trip to South America.  Since her father went missing, Janet's only mentor is her father's closest friend, Leon Hartman (Paul E. Burns).  Janet refers to him as Uncle Leon even though they are not related.  Leon is a taxidermist and prepares all the exhibits for the museum.
Things start getting deadly when someone sends a poison dart from a blowgun into the Mitchell house while Louise is in the living room.  Trying to chase the perpetrator the family butler (John Elliott) is killed with one of the darts.  Janet begins to come unglued.  Jack and Doc begin to suspect that Janet may know more than she's telling.  Could Rex be trying to really kill Louise?  Questions also arise when they learn that Quentin Mitchell was proficient with a blowgun.  When a headless body shows up, they begin to think that maybe Quentin isn't really dead.   
"The Devil's Mask" was released in 1946 and was directed by Henry Levin.  It is an American murder mystery from Columbia's "B" picture production company.  This is the second of three films that Columbia produced based on the "I Love a Mystery" radio series.  The other films were "I Love a Mystery" 1945 and "The Unknown" 1946.  The radio series ran from 1939 to 1944 and was created by Carleton E. Morse.
As far as mysteries go this one is slightly predictable but still enjoyable.  What did seem a little strange is that Jim Bannon got a higher billing than Barton Yarborough but as far as dialogue is concerned Yarborough got the lion share.  Bannon seemed a little wooden, and Yarborough got a lot folksier in his speech.  Anita Louise as Janet Mitchell was mostly annoying.  Still, there is a bit of a noirish flavor to the film which is nice.  It was an interesting little mystery and entertaining.