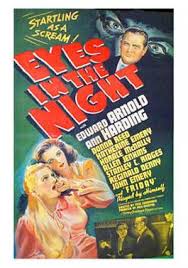 Duncan 'Mac" Maclain (Edward Arnold) is a very special New York private detective. He is a retired police captain and blind, but being blind doesn't stop him. With his special talent of reading people by listening to them, and the heightened development of his other senses, he can solve cases that others cannot. With the aid of his guide dog Friday, his assistant Marty (Allen Jenkins) and his butler Alistair (Mantan Moreland) he is a force that can't be beat.
An old friend of his, Norma Lawry (Ann Harding), comes to visit him. She is a retired stage actress who is married to Stephen Lawry (Reginald Denny). Stephen is an inventor doing some secret work for the government. While he is busy in his laboratory, working on his invention, Norma is trying to help raise Stephen's daughter Barbara (Donna Reed). Barbara is also a stage actress and quite headstrong.
Things got really difficult when Barbara started dating her co-star, Paul Gerente (John Emery). At one time Paul and Norma were lovers. Norma knows that Paul is scum and is trying to find a way to tell Barbara without looking like the evil step mother. Paul has convinced Barbara that Norma is still in love with him and is jealous. He has also convinced Barbara that Norma married her father for his money. Now Barbara hates Norma and wants to get rid of her. Mac convinces Norma that she needs to try to convince Paul to leave Barbara alone. It doesn't work.
Now that he has completed work on his invention, Stephen has to go out of town to demonstrate it to the government. Norma stays behind to try to have one last talk with Paul. When Barbara arrives at Paul's apartment for dinner she finds Paul's dead body. She also finds Norma. Norma tells Mac.
Mac, Friday and Marty go to the apartment but the body is now gone. While they are there a man comes in and replaces a rug that was where the body had lain. The man makes a phone call to Norma's house. Mac and Marty put the guy on ice until they can sort stuff out. Mac goes to Norma's to find out who it was that the guy called. Until he can figure out who's who Mac pretends to be Norma's loud and boisterous uncle Mac. While pretending to be a relative Mac ends up stumbling into not only murder but an espionage ring of Nazi spies and a plot to steal the formula for Stephen's invention.
"Eyes in the Night" was released in 1942 and was directed by Fred Zinnemann. The movie is a crime/mystery based on the novel "The Odor of Violets" by Baynard Kendricks. It was an incredibly delightful mystery.
Edward Arnold is perfect as the smart and shrewd blind detective. His portrayal of Norma's cranky Uncle Mac was wonderful. As a matter of fact the acting in general is great. There are solid performances, although small, from Mantan and Jenkins. Reed and Harding are also good. There are punches of humor throughout that flow with story.
Of course the absolute best part of the movie was Mac's German Shepherd service dog Friday. He was brilliant, and adorable. The biggest ham in the film. Whatever faults you find with the movie fall by the wayside when Friday is front and center. Throw in spies and WWII propaganda and you have a fun mystery. I truly enjoyed this film.