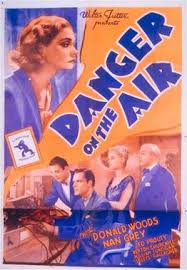 "Keep out of this, keep out if you don't want death to call again."
Caesar Kluck (Berton Churchill) is a soft-drink magnate. Nobody likes him. He's rude, arrogant, and bossy and uses his power to try to assault women. He is a client whose commercials are broadcast on a big radio company station. During one of the broadcasts he is in the sponsor's room listening to his latest commercial. The next minute he is dead. Sound engineer Benjamin Franklin Butts (Donald Woods) assigns the case to himself. He determines that Kluck died of cyanogens gas. But how it was administered he has not yet determined.
The head of the broadcasting company, Harry Jones (Jed Prouty), wants to keep the murder under wraps, however, Butts spills the beans in front of reporters. Jones fires him. Undaunted Butts proceeds full steam ahead. In line as would-be killers are just about everyone. Among the suspects are Christina "Steinke" MacCorkle (Nan Grey), her brother, Alexander MacCorkle (Frank Milan), radio announcer, Dave Chapman (William Flannigan), janitor, Tony Lisotti (Lee J. Cobb), his daughter Maria (Louise Stanley), Kluck's physician, Doctor Leonard Sylvester (Edward Van Sloan), and Joe Carney (Joe Downing), a local racketeer.
Butts' only clues are a deflated balloon, a straw and a pin. When another body turns up, and another deflated balloon, Butts puts on some extra speed in pursuit of justice. With too many suspects and too few clues Butts manages to zero in on the perpetrator. In typical movie fashion, Butts calls all the suspects together in one room to reveal the culprit.
"Danger on the Air" was released in 1938 and was directed by Otis Garrett. The movie is based on a book called "Death Catches Up With Mr. Kluck" written by Edith Meiser. She used the pseudonym Xanthippe. Meiser wrote many radio plays. Her most well known were her radio plays based on Sir Arthur Conan Doyle's Sherlock Holmes stories. They were performed by Basil Rathbone and Nigel Bruce on radio. Her work was praised by Sir Arthur Conan Doyle's fans who made her an honorary member of The Baker Street Irregulars.
Universal worked out a deal with Crime Club, a division of Doubleday publishing company. Depending on who you talk to, Universal produced eight or eleven movies using the Crime Club name. Crime Club produced a massive amount of pulp fiction mystery novels. "Danger on the Air" was the fourth movie of the series. The movies were released from 1937 to 1939.
It is an amazingly fast paced movie. There is a lot going on so it needs to be quick to get it all in. There are a lot of suspects and everybody has a motive. The fun is not in figuring out who-done-it, but the road getting there. Even though the bad guy and his or her motive came from left field it was still very entertaining. If you like a good light-hearted mystery and a touch of magical thinking you'll enjoy it.