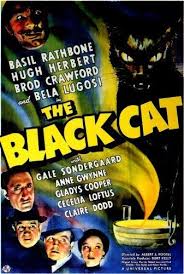 Henrietta Winslow (Cecilia Loftus) is rich, old and ill. Her family is on pins and needles waiting for her to kick the bucket so they can find out who inherits. Henrietta decides not to die, disappointing them all. Since her family is all present, Henrietta decides to read her will to everyone. To her niece Merna Hartley (Gladys Cooper) she bequeaths $100,000. To Merna's husband Montague Hartley (Basil Rathbone) she will bequeath $10,000. For Merna's step-son Richard (Alan Ladd) $10,000. Her granddaughter Margaret Gordon (Claire Dodd) gets $100,000. Grandson Stanley Grayville (John Eldridge) also gets $100,000. The gardener Eduarado Vigos (Bela Lugosi) gets $5,000. Finally granddaughter Elaine (Anne Gwynne) gets everything else.
Into this family affair comes Hubert Smith (Broderick Crawford). Tagging along after him is Mr. Penny (Hugh Herbert). Smith is a real estate broker and has been told that Henrietta is dying and the house will be up for sale. He has a buyer and is there to make an offer on the house. Mr. Penny is there to scope out the furnishings. Henrietta likes Smith and tells him there is codicil to the will that she hasn't yet mentioned to the family. No one is allowed to inherit a penny until the housekeeper Abigail (Gale Sondergaard) and the cats die. Henrietta has lots of cats and Abigail is to live in and maintain the house and take care of the cats.
Not knowing about the codicil and not wanting to wait any longer for their money someone first tries to poison the old lady but kills one of the cats instead. When that fails Henrietta is stabbed with a knitting needle. The coroner is bribed to call it an accident and Henrietta is cremated. Not long after that the family finds out about the Abigail and the cats. Now Abigail is in danger. In a house full of secret passages and dark shadows everyone has an ulterior motive, but only one whose motive spurs them to murder.
"The Black Cat" was released in 1941 and was directed by Albert S. Rogell. It is a comedy/horror film and your basic "Old Dark House" sub-genre. There are several movies called "The Black Cat". Most of them pretend to be "loosely" based on Edgar Allan Poe's story. They aren't. This one isn't either. But there is a black cat in it and it is supposed to be a harbinger of death. And it pretty much is.
Although not well known compared to other Black Cat movies it has some rather impressive actors in it. Broderick Crawford is amazing as the overzealous but endearing Hubert Smith. Basil Rathbone plays his usual uptight entitled snob with aplomb. Gale Sondergaard is as creepy as ever as the gloomy housekeeper. The story was also interesting. Yes, for the most part, it was your basic who-done-it but it unfolded nicely with lots of spooky moments. The movie is not real funny but it is very entertaining.
What I wasn't crazy about was Hugh Herbert as Mr. Penny. I felt that Crawford interjected enough comic relief that Herbert really wasn't needed, nor did he really add much to the story other than bumbling around. He didn't really hurt it all that much but I could have done without that dumb hoo-hoo he always adds at the end of a joke. I also would have liked to have seen more Lugosi in the film. His part was not much more than a cameo.
The exterior of the Winslow Mansion was also used in Universal movies "The Night Monster," "The Mummy's Tomb," "The Mummy's Ghost," and "Son of Dracula." All cat dialogue was dubbed by a human.
Marlene Dietrich has a cameo in the film. She was on set visiting her boyfriend, Broderick Crawford, at the time. She volunteered to fill in for Claire Dodd who had left for the day. She was filmed from the back in a non-speaking scene.