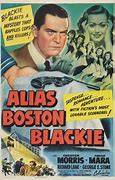 It's Christmastime and Boston Blackie (Chester Morris) has arranged for the inmates at the prison to have a vaudeville show put on for them. Roggi McKay (George McKay) is a clown and the head of the show. Included in the show will be a chorus line of girls. One of them is Eve Sanders (Adele Mara). Her brother, Joe Triby (Larry Parks) is one of the inmates. Joe was wrongly convicted of a robbery and is now bitter and wants revenge on the two people he blames for his being in prison. During the show Joe ties up Roggi and takes his place as the clown act. In full makeup he leaves with the rest of the cast of the show.
On the bus is Blackie and Inspector Farraday (Richard Lane), who is keeping an eye on Blackie. When Farraday learns that Joe escaped he believes that Blackie was instrumental in helping him. Although Blackie is innocent of the escape he is more than willing to help Joe find the two guys he says were responsible. Blackie wants to find them before Joe does and kills them. Joe says that a guy named Duke Banton was one of the robbers. When Blackie finds Duke he is dead. When Joe shows up to kill him he is too late. It looks like Duke's partner in crime was getting rid of loose ends. When the cops show up Blackie does some fast talking and manages to smuggle Joe out as the dead guy.
Now Blackie is in a race to find the second man before Farraday gets in the way. All he knows is that he went by the name of Steve (Paul Fix) and he has a fake taxi driver's license. Blackie learns some information from Jumbo Madigan (Cy Kendall). Jumbo runs a pawn shop and always has his ear to the ground when it comes to what's going on in the criminal world. Finding out everything he needs to know Blackie sets a trap for the elusive Steve.
"Alias Boston Blackie" was released in 1942 and was directed by Lew Landers. It is a mystery with comedic elements. It is also the third of fourteen "Boston Blackie" films produced by Columbia and all starring Chester Morris and Richard Lane. The series is based on the character created by Jack Boyle.
As with many of the Boston Blackie films the story is light with lots of patter and antics. The fast pace and frequent humor is mixed in with some suspense and everything is solved in a little more than an hour. Boston Blackie is fun escapism that was sorely needed during WWII. They are still enjoyable now.
Lloyd Corrigan returns as Arthur Manleder, Blackie's lovable yet scatterbrained friend. George E. Stone reprises his role as Blackie's former safecracking partner the Runt. New to the series is Jumbo Madigan, a well informed pawn shop owner that often gives Blackie inside information on the underworld. The character is played by Cy Kendall.
Lloyd Bridges played the bus driver that takes the actors to and from the prison for the show.