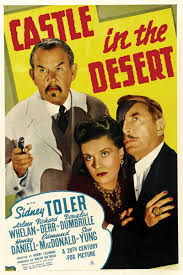 Paul Manderley (Douglass Dumbrille) is a recluse who lives in a 16th century castle in the Mohave Desert with his wife Lucy (Lenita Lane). Unfortunately for Paul the house, at the moment, is full of people. Paul's lawyer Walter Hartford (Edmund MacDonald) is there on business. Walter brought his wife Brenda (Arleen Whelan) along. The family doctor, Dr. Retling (Steven Geray) and a genealogist named Gleason (Lucien Littlefield) are also at the house. After drinking a cocktail given to him by Lucy Gleason dies of poisoning.
Lucy is the former Princess Lucerzia della Borgia. Paul's father's will states that any scandal on the Manderley family name would result in Paul losing control of the twenty million dollar estate. Fearing that his wife may be implicated in the murder Paul bribes Dr. Retling and attorney Hartford to take the body to the nearest town, Mojave Wells, and pretend that Gleason died of a heart attack in his hotel room.
Charlie Chan receives a mysterious letter from Lucy asking him to come to the castle in the desert. The note says her life is in danger and she needs his help. When Charlie arrives Lucy says the note is a forgery and she never sent it. Intrigued, Charlie decides to stay awhile. Also now at the castle are a professor of medieval history Carl Detheridge (Richard Derr) who is doing some research and Watson King (Henry Daniell) a sculptor who had been hired to do a bust of Lucy.
Charlie's number two son Jimmy (Victor Sen Yung) shows up having received a note saying his father was in danger. Along with Jimmy is a star gazer named Madame Saturina (Ethel Griffies) that managed to tag along after Jimmy. The stars tell her that danger is in the air and the stars never lie. Shortly after that a private investigator named Arthur Fletcher (Milton Parsons) shows up on behalf of the Gleason family who are suspicious of his death.
During dinner Fletcher dies after drinking a glass of wine given to him by Lucy. Charlie is now up to his ears in suspects. Many of whom have reason for murder. Charlie's investigation uncovers a mountain of lies, bribery, family secrets and a plot to steal millions.
"Castle in the Desert" was released in 1942 and was directed by Harry Lachman. It is the 27th of 44 films in the Fox/Monogram Charlie Chan Cannon and the last one produced by 20th Century Fox. It is also the eleventh film where Charlie Chan was played by Sidney Toler. The movies are based on characters created by writer Earl Derr Biggers.
Twentieth Century Fox had no plans to produce another Charlie Chan film. Sidney Toler obtained the film rights to the character from Earl Derr Biggers' widow. With Monogram Pictures Toler continued to make Chan films. Toler made a total of eleven films with Monogram. After Sidney died Monogram continued making Chan films with Roland Winters playing the Chan character. Roland did six films for Monogram.
"Castle in the Desert" is your basic Old Dark House mystery. The castle has lots of creepy atmosphere and has everything from a poison room to a dungeon. The movie is one of the better of the Charlie Chan films. There's a good mystery and some great and eccentric characters. It's one of my favorites of the Cannon.
The castle in "Castle in the Desert" is loosely based on Scotty's Castle, a Spanish Revival style villa built by Albert Mussey Johnson as a vacation getaway for him and his wife. The home is in Death Valley. The castle is named after a prospector named Walter E. Scott, known as "Death Valley Scotty". Scotty convinced everyone that he built the castle from a secret gold mine that he had. He didn't but Albert and Scotty were friends. Albert had the money but Scotty had the mysterious story. In actuality Scotty's Castle isn't even a castle and Scotty never owned it.