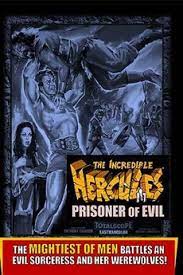 In the kingdom of Sura, a monster is terrorizing the land.  Referred to as the vulture, the monster attacks caravans and kills anyone that it finds.  When the Prince Regent Zerah (Furio Meniconi) hears about the latest slaughter, he blames Hercules (Reg Park) and his people, although he has no proof of his accusations.  Hercules and Zerah are in conflict with each other.  Their disagreement started when the old Kahn died ten years ago.  Zerah believes that Hercules is planning to seize the throne and has been trying to find a way to get rid of his competition.  Each time Zerah sends someone to assassinate Hercules, they are defeated.  
Although Zerah is the Prince Regent, the heir to the throne is the Kahn's daughter, Amiko (Mireille Granelli).  Zerah and Amiko are cousins.  To solidify his hold, Zerah plans on marrying Amiko.  Amiko, on the other hand, is in love with Hercules and has clandestine rendezvous with him in a secret cave.   
In the middle of this, Hercules' brother Ilo (Ettore Manni) returns from his wanderings.  While resting in Hercules' tent he is attacked by the monster.  The plot is foiled, and the monster gets away.  Ilo is troubled because when the monster came into the tent Hercules' dog didn't bark.  Then he finds the sword the monster dropped.  It belonged to Hercules.  Ilo is also concerned because the monster usually attacks when Hercules is away. 
When a message comes for Hercules to meet someone in secret, Ilo decides to keep the appointment.  Instead of finding answers to his question he meets Amiko.  She tells Ilo that she and Hercules are in love and plan to marry.  They meet in secret because Zerah would have a fit if he found out.
In the meantime, the monster appears, attacks Hercules and severely injures him.  While he is being tended to by a healer, Zerah takes the opportunity to attack Hercules' people and blame it on the monster.           
"Hercules, Prisoner of Evil" AKA "Ursus, il terrore dei kirghisi" AKA "Ursus, The Terror of Kirghiz" was released in 1964 and was directed by Antonio Margheriti , under the pseudonym Anthony Dawson, and an uncredited Ruggero Deodato.  It is an Italian sword and sandal film.
This was a pretty good peplum movie.  The story was interesting and, for the most part, the acting was good.  Granted there weren't a lot of sword fights or chariot races, but the actual story had a bit of mystery to it, and it kept my attention.
The monster in the film has sometimes been referred to as a werewolf.  It's not.  It's more of a bewitched ogre.  Some of the names were adjusted for the American dubbed film.  The biggest change was that Ursus is now called Hercules, supposedly because Americans can't handle names that aren't Hercules, Ulysses, Goliath, or Samson.  It doesn't matter that this Hercules has nothing to do with Roman mythology.