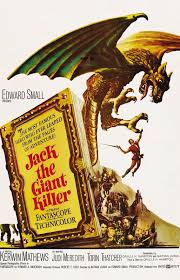 "Pick up the bottle. I dare ya to. But caution if you've told a lie. The glass will glow and your hand will fry."
The evil sorcerer and black prince Pendragon is the ruler of giants, witches, and hobgoblins. He is evil and rules everything evil. The wizard Herla exiled him to an unknown island. When Herla dies Pendragon is now able to exact his revenge on the kingdom of Cornwall.
On the birthday of Princess Elaine (Judi Meredith) there is a great festival. Disguised as a prince the evil warlock Pendragon (Torin Thatcher) and his minion Garna (Walter Burke) attend the festivities. He gives Elaine a gift. It is a music box. Inside is a small jester that dances.
During the night, the jester becomes a giant. The giant abducts the princess. Just as the giant and Garna are about to sail off with the princes a farmer, Jack (Kerwin Mathews), kills the giant and rescues Elaine. Jack is knighted. He and Elaine fall in love. To keep Elaine safe, King Mark (Dayton Lummis) assigns Jack to protect her. He sends Elaine, disguised as a peasant by ship to a distant convent in Normandy.
Pendragon, however, has a spy in the castle in the form of Lady Constance (Anna Lee). She sends word to Pendragon of the King's plans. Just before they get to their destination Pendragon sends witches to attack the ship. The princess is kidnapped and the captain is killed. When Jack wants to go after the witches he and the captain's son Peter (Roger Mobley) are thrown overboard and the crew sail away to leave them to their fate.
Jack and Peter are rescued by the Viking Sigurd (Barry Kelley). Sigurd has a bottle containing a Leprechaun Imp (Don Beddoe). Jack asks for their help to rescue the princess. The Leprechaun gives Jack three coins that will each grant one wish. Sigurd gives him a sword. When they get to Pendragon's stronghold Jack scales the cliff to the castle to save the princess.
"Jack the Giant Killer" was released in (1962) and was directed by Nathan H. Juran. The movie was released four years after "The 7th Voyage of Sinbad". It is a sword and sandal film. When Harryhausen and Charles Schneer were looking for a producer for "Sinbad" they asked Edward Small. Small turned them down. Once Sinbad became a hit, Small was kicking himself for passing on producing the movie. So, he decided to make his own. He couldn't get Ray Harryhausen to do the visual effects so instead he got Howard A. Anderson and had to be content with the director and two of the stars of "Sinbad".
"Jack The Giant Killer" is also a little more whimsical than "Sinbad" but Torin Thatcher's sorcerer is just as devious and Kerwin Mathews' hero just as swashbuckle-y. There are also some similarities with "Sinbad". OK, Small down right stole them. Instead of a cyclops, dragon and genie he created a giant, a flying dragon and a Leprechaun Imp. And he tossed in a two-headed giant and a sea monster for good measure.
The results are decent. Granted the stop motion effects are not quite as good as Harryhausen's work but they are not bad. Well, not real bad. The monsters are a little more rubbery and the green screen graphics not as good. As long as you are OK with monsters a little on the silly putty side it's a fun movie, and it would make a great family movie as well. And did I mention it has monsters?