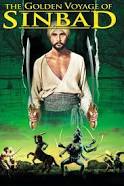 Robert Shaw played the "Oracle of All Knowledge" in The Golden Voyage
Sinbad (John Phillip Law) finds a portion of an intricate golden tablet. He then meets a masked Vizier (Douglas Wilmer) who, do to a fire, has his face hidden behind an iron mask and who has another piece of the tablet. Together they represent a portion of a map that shows the location of the fountain of destiny. The third piece of the tablet is in the hands of a sorcerer (Tom Baker) who will do anything to retrieve all three pieces, for the one who brings all three sections of the tablet to the fountain will claim youth, a shield of darkness and a crown of untold riches.
Thus starts an adventure with Sinbad and the Vizier searching to find the fountain to try to restore the Vizier to health and to beat the Wizard who, through trickery and spells, is also in pursuit of the fountain of destiny.
"The Golden Voyage of Sinbad" was released in 1974 and was directed by Gordon Hessler. It is a sword and sandal sub-genre film. The best part of the movie was of course Ray Harryhausen's work. You can't beat his talent with special effects. He breathes life into every creature he creates. Even in the time of CGI some people prefer his work to anything being done today. Perhaps it has to do with the love he had for taking something small and inanimate and making it bigger than life on screen. It is fantasy personified.
The second best part of the movie is of course Tom Baker (Dr. Who 1974-1981). (Although most guys would probably say Caroline Munro.) Baker puts in a magnified performance as the evil Prince Koura. His deep resonating baritone voice echoes throughout the movie. (He is Koura. He is Dr. Who. He is Rasputin.)
I realize there are some who found the movie a little slow and that's OK. I apologize to all the Harryhausen fans. I know how rabid you are. I am one too. If you are a Harryhausen fan it is already in your collection. I'm not going to compare one Sinbad movie against another. They all have their pluses and minuses. But whatever the minuses are for "The Golden Voyage of Sinbad" they are out shown by Harryhausen and Baker.