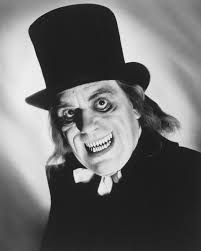 At the London Balfour estate Roger Balfour (Claude King) is found dead. Beside him is a gun and a suicide note. The note reads "I am taking my own life. Forgive me Lucille." Professor Edward Burke (Lon Chaney) is a private investigator who is looking into the case. The last one to see Balfour alive was his neighbor and friend Sir James Hamlin (Henry B. Walthall). Hamlin lives with his nephew Arthur Hibbs (Conrad Nagel). Arthur was also Balfour's secretary. Despite Hamlin's assertions otherwise Professor Burke declares Balfour's death a suicide.
Five years later Hamlin is still living next door to the abandoned Balfour estate. Balfour's daughter Lucy (Marceline Day) is also living with Hamlin and Hamlin's nephew Arthur. Arthur is in love with Lucy. The Balfour estate is rented out to a strange man with pointed teeth and his highly distinguishable beaver hat (Lon Chaney) and a sallow looking young woman named Luna (Edna Tichenor).
The former Balfour butler Williams (Percy Williams) is now employed by Hamlin. Also in the house is Hamlin's maid Miss Smithson (Polly Moran). Miss Smithson firmly believes the Balfour estate is haunted. The strange people living next door alarm Hamlin so he calls Scotland Yard. Inspector Burke shows up to, once again, investigate. The man in the beaver hat now living at the Balfour estate prompts Burke to suggest that they may have been involved in Balfour's death. Burke is now convinced that Balfour was murdered. His investigation takes a strange turn incorporating the occult and hypnosis. Whatever it takes to lead him to the killer.
"London After Midnight" AKA "The Hypnotist" was released in 1927 and was directed by Tod Browning. It is a silent mystery horror film. It is also a lost film. That being said, in 2002, Turner Classic Movies aired a reconstructed version, produced by Rick Schmidlin, who used the original script and film stills to recreate as much of the original plot as he could. This is not the movie. It is an interpretation of the movie that gives you a taste of what the movie may have looked like. The original film was 65 minutes long. Turner's reconstruction exhibit is less than 45 minutes long. The last known copy of the film was destroyed in the 1967 MGM vault fire. Many silent and early sound films were lost in that fire.
"London After Midnight" is probably the holy grail of lost films. What makes it so is Tod Browning and Lon Chaney Sr. There were and are many rumors of copies or snippets showing up in various places. One was that there were pieces cut from trailers by a projectionist in the Canary Islands. Another was that there was a print in Cuba. Then there supposedly was a 7 reel print discovered in Spain. None of these "sightings" bore fruit. There are dozens of websites devoted to the film. They all say just about the same things.
As for the reconstruction, I found it interesting. Granted it isn't the real film and it lacks character fulfillment or the director's style and nuances but unless a real copy of the film ever rears its head this is all we have. Some like it some don't. If you're interested in getting a feel for what the film was like this may help. If you're looking to see something closer to what Browning envisioned this may not satisfy you.
In 1935 Browning did a talkie remake of "London After Midnight". It was titled "Mark of the Vampire" AKA "Vampires of Prague" and it starred Bela Lugosi, Lionel Barrymore and Lionel Atwill. The remake, however, does not refer to the original film or its writers. I also don't know how close it came to the original film but in reviewing the script draft it appears that a lot was left out.
The movie was the first and only time Lon Chaney used his famed makeup box as a prop onscreen. Chaney's "vampire," AKA "the man in the beaver hat", inspired the creature in the 2014 film "The Babadook". The television series "Whitechapel" featured "London After Midnight" as a film that supposedly drove people mad. The story goes that the look created by Lon Chaney as the vampire-like character, unhinged the mind of a young male movie-goer to the extent that he murdered his girlfriend not long after having seen the film. The killer used Lon Chaney's makeup as his main line of defense during his trial but the court judge didn't believe him.
In May 2022 the search for "London After Midnight" moved to Australia. Why Australia? Because that is the end of the movie distribution chain. Once a film is shown in Australia it usually stays there since no one wants to pay the cost to send it back. Finding the film in 2022 would be kismet since it is also the same year the film goes into public domain.