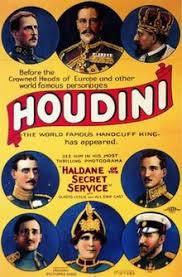 Heath Haldane (Harry Houdini) is a detective working for the Justice department. His father "Silent Saunders" Haldane was killed by a band of counterfeiters. Haldane has vowed to find the gang and bring them to justice. One evening as he is walking along the street a woman runs up to him looking for help. A car comes up trying to kidnap the woman. Haldane prevents the kidnapping but the woman and the would-be kidnappers disappear. The only thing left is a satchel the young woman dropped. Inside Haldane finds counterfeit money. When he's not looking someone switches bags on him.
Haldane, unaware of the switch, goes to the house where the woman disappeared to check on her and find out about the fake money. The young woman turns out to be Adele Ormsby (Gladys Leslie). While he is there someone again switches bags on him. When he confronts Adele with the contents of the bag it turns out to be woman's clothes. Knowing something strange is going on Haldane presses Adele for the reason she was running away from the men in the car.
She then tells him that a Mr. Ivers (Richard Carlyle) and another man came to see her uncle Edward Ormsby (William Humphrey). She explains that she was about to get married to a man named Raoul Usher (Edward Boulden) when she received a telegram from her friend Andrea Drayton (Myrtle Morse) warning her not to get married. She then saw her uncle being robbed of a valuable statue. She grabbed the first bag she saw and took off not realizing it was the wrong bag. She says she also heard a shot on her way out.
Haldane finds the dead man in the other room. Ormsby says they've called the police. Not wanting to expose himself as a detective Haldane leaves. He follows Ivers to a warehouse where drugs are being unloaded. Now Haldane's investigation not only includes counterfeiting but a stolen sacred Chinese artifact, murder and drug smuggling as well. The investigation takes him to Europe and involves an international ring.
"Haldane of the Secret Service" was released in 1923 and was directed by Harry Houdini. It is the last movie that Houdini did. As with many movies from the silent era racist stereotypes are evident.
There are not a lot of escapes in this film. Houdini gets tossed in the water once which is nothing for him and at one point he is dragged by an ocean liner. He does get tied to a paddlewheel that falls into a river and has to escape underwater. That was an interesting escape; however, you have to wait until almost the end of the film for it. As in all his films Houdini does all his own stunts.
The plot was quite involved and a little confusing. The choppy editing didn't help any. Plus the plot was crammed full of, well, stuff. It involved counterfeiting, murder, drug smuggling, secret societies, stolen artifacts, international intrigue as well as various locations like New York City, London and Paris. Like a rock skipping across the water it didn't land on anything long enough to make more than an impression. There's also a love interest between Haldane and Adele as well as a love quadrangle with Usher and Adele's friend Andrea.
Reportedly Houdini used location footage from his 1920 tour as part of the movie. Using your own stock footage as stock footage is an interesting concept. Views of Houdini with Big Ben, the Eiffel Tower and The Statue of Liberty are interjected with the story plot.
Houdini fans may feel a little short changed by the lack of a lot of hair raising, death defying stunts but the movie more than makes up for it in plot devises. It's not a great movie but I did find that the surprise-ish ending was decent. Considering Houdini was a bit out of his league as director he did an OK job.