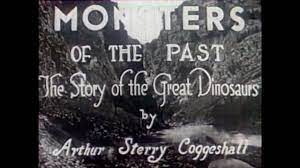 "Monsters of the Past: The Story of the Great Dinosaurs" was released in1922 by Arthur Sterry Coggeshall.  At that time, Coggeshall was the curator and administrator of the Carnegie Museum of Natural History in Pittsburgh, Pennsylvania.  It is a silent film produced for the museum during the last year of the Carnegie Quarry excavations in the area of Utah now known as Dinosaur National Monument.  It is one of, if not the first, prehistoric documentaries.  The video is a little over 18 minutes long.
The stop-motion clips in the film came from the Willis O'Brien silent shorts "The Ghost of Slumber Mountain" 1918 and "Along the Moonbeam Trail" 1920.  O'Brien's footage includes a Tyrannosaurus Rex and Triceratops stop motion characters, neither of which was found at the Carnegie Quarry.  Of course, not all of the dinosaurs depicted in the documentary are from the same time period.  The film also includes noted drawings by dinosaur and wildlife artist Charles R. Knight.   
In addition to the stop motion and pictorial images of dinosaurs the film includes the process used in the 20's to extract, clean, catalogue and display dinosaurs, some of which is still used today. The 1909 excavation footage, led by Earl Douglass, is considered to be the earliest movie footage taken of dinosaur fossil excavations and is the most accurate part of the documentary. 
The copy of the film I have is audio-described.  If you want the pure silent film experience, then just mute the video.
There was another dinosaur film also titled "Monsters of the Past" that was produced by Pathé Exchange as part of their Pathé Review series in 1923.