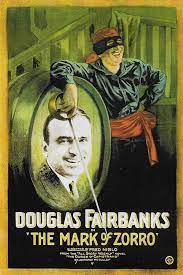 The Mexican territory of California has been oppressed by the Mexican government under the rule of Governor Alvarado (George Periolat). From this tyranny came a man in black, wearing a mask and riding a dark horse. The people call him Zorro. As a hero for the poor and indigenous people he stops any brutal treatment he sees and, using his sword, marks the abuser's face with a "z". No one knows who he is. In reality Zorro is Don Diego Vega (Douglas Fairbanks). To cover for his alter ego Don Diego pretends to be a foppish weakling.
Diego has returned to California from being educated in Spain. His father, Don Alejandro (Sidney De Gray) wants grandchildren. He tells his son to visit Don Carlos Pulido (Charles Hill Mailes) and court his daughter Lolita (Marguerite De La Motte). Don Carlos is the head of a once wealthy family. Because of the corruption by the Governor he now has nothing left but his house. He and his wife, Dona Catalina Pulido (Claire McDowell) should be very receptive to having a rich son-in-law.
When Lolita meets Don Diego she is not impressed. She tells her mother that he is not a man, he is a fish. Sounds about right. The Governor's head henchman is the abusive Captain Juan Ramon (Robert McKim). He is also pursuing the lovely Lolita. She doesn't like him either. When she meets the dashing and daring Zorro she is smitten. Zorro, in turn, falls for her. When Ramon tries to rape Lolita, Zorro comes to her aid. Ramon then has the Pulido family thrown in jail for being in league with Zorro. It's now up to Zorro to free the Pulido family and encourage the people to fight back against the tyranny of Alvarado and his soldiers.
"The Mark of Zorro" was released in 1920 and was directed by Fred Niblo. It is a silent swashbuckler adventure romance film and also considered a western. It is based on the 1919 story "The Curse of Capistrano" by Johnston McCulley and published in "All Story Weekly" magazine. The release of Fairbanks' movie caused the author to write several more stories about the Robin Hood-esque hero. The film was remade in 1940 with Tyrone Power and in 1974 with Frank Langella. In 2015, the United States Library of Congress selected the film for preservation in the National Film Registry, finding it "culturally, historically, or aesthetically significant".
If you like swashbuckle, this is the movie for you. The extremely athletic and nimble Fairbanks is known for doing his own stunts. In this film you get to see some great gymnastics in between the sword play and the romancing. Fairbanks did several swashbuckler style films such as "The Thief of Bagdad" 1924 and "Robin Hood" 1922. Some great restoration has been done and the film is beautiful with some nice tinting. Some versions also have original music to complete the cinematic experience. If you're a Zorro fan this is an excellent example of the Spanish hero. If you just like a great movie this is also a good example.
In the Batman origins story Bruce Wayne is the son of Thomas and Martha Wayne. Bruce is brought up in Wayne Manor, and leads a happy and privileged existence until the age of eight, when his parents are killed by a small-time criminal while on their way home from a movie theater. The movie showing at the theater was "The Mark of Zorro" with Douglas Fairbanks.
Reportedly Comedian Milton Berle has a part as a small boy in the film, as does Noah Beery Jr. Fairbanks owned the Douglas Fairbanks Pictures Corporation, the company that produced the film. In 1920 Fairbanks was married to Mary Pickford. Together with his wife Mary, Charlie Chaplin and D.W. Griffith formed the distribution company United Artists. This was the first film the company released. Zorro is Spanish for fox.