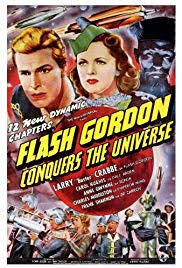 "This is a dreadful place. Why those rocks look positively menacing."
The Earth is suffering from a mysterious plague called 'The Purple Death". Dr. Zarkov discovers that the plague is being spread across the Earth by one of Emperor Ming's (Charles Middleton) space ships.
In dire need of a cure, Flash Gordon (Buster Crabbe), Dr. Zarkov (Frank Shannon) and Dale Arden (Carol Hughes), enlist the aid of Prince Barin (Roland Drew), the rightful ruler of Mongo. The team flies to Frigia, in the polar region of Mongo, to obtain a supply of Polarite. The substance is used to manufacture a cure for the plague. While the cure is being made Dale and Zarkov are captured by Ming's lead henchman Captain Torch (Don Rowan) and an army of walking robot bombs. Torch takes his captives to Ming. Flash brings the cure to Earth and distributes it. He then returns to Mongo to try to save Dale and Zarkov.
Flash is able to free Zarkov and Dale. Ming, undaunted is on to his next lethal weapon. This weapon is "Ultranilium", a metal that explodes upon contact with air. Before attacking the Earth, Ming wants to test the weapon on the Prince Barin's kingdom of Arboria. Since his daughter Aura (Shirley Deane) is married to the prince, Ming sends Captain Torch and a spy named Sonja (Anne Gwynne)to kidnap Aura so that she is out of danger. Learning of the new weapon Zarkov whips up a defense for it. Of course it works.
But never fear, Ming is far from done trying to annihilate everyone so he can rule over them.
"Flash Gordon Conquers the Universe" was released in 1940 and was directed by Ford Beebe and Ray Taylor. This is the third and final Flash Gordon serial made by Universal. There is some recycled footage from previous Flash Gordon serials as well as from the 1930 Leni Riefenstahl film "The White Hell of Pitz Palu". Although Crabbe, Middleton and Shannon return in their roles as Flash, Ming, and Zarkov respectively, the other lead characters of Dale, Prince Barin and Princess Aura are different actors. Because of these differences, and the stock footage, a lot of people have panned the serial. Not fair.
There are some new and cool items in this serial that make it just as enjoyable as the first two. This is the first serial to incorporate polar scenes and rock people and walking robot bombs. There are also new weapons introduced that add a different texture to the serial. Granted everyone is still sneaking into and out of palaces and having fist fights and either being captured or appearing to be killed but that is what serials are all about.
There are also some returning favorite things. The mix of styles in the costumes is still as incongruous as in the previous serials. The art deco flair to the sets, some of them returning sets, and those wonderful phallic spaceships. I would certainly miss seeing them putt, putt around the screen.
The dialog of the Rock People is normal speech played backwards.
By the third serial Dale Arden's character had improved tremendously. She is now a strong fearless woman who courageously stands beside Flash in every perilous venture. She is far from the scream and faint Dale we met back in Space Soldiers.
Chapter Titles: 1. The Purple Death 2. Freezing Torture 3. Walking Bombs. 4. The Destroying Ray 5. The Palace of Peril 6. Flaming Death 7. Land of the Dead 8. The Fiery Abyss 9. The Pool of Peril 10. The Death Mist 11. Stark Treachery 12. Doom of the Dictator