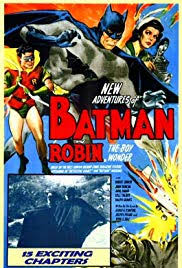 "You have a plan sir?" "I always have a plan."
Batman AKA Bruce Wayne (Robert Lowery) and Robin-The Boy Wonder AKA Dick Grayson (Johnny Duncan), are battling a crime wave in Gotham City. Police Commissioner Jim Gordon (Lyle Talbot) tells the dynamic duo that a burglary is in progress at an electronic research plant on Main Street. The thieves get away with a remote-control devise invented by Professor Hammil (William Fawcett). Hammil is considered eccentric, a bit of a loner, and really cranky. He is confined to a wheelchair and is aided by his valet Carter (Leonard Penn). The devise can take over any motor vehicle within a 50 mile radius.
The machine was stolen by a black hooded criminal who goes by the name of The Wizard. It is powered by diamonds. Needing fuel for the devise The Wizard will brazenly do whatever is needed to accomplish his goals. Thefts of diamonds are the least of his dastardly deeds.
Vicki Vale (Jane Adams) ace reporter is also on the case. This is her first appearance in the serials.
There are several suspicious characters that could be the infamous Wizard. They are a private investigator named Dunne (Michael Whalen), a radio announcer, Barry Brown (Rick Vallin), and professor Hammil himself. He is not as much of an invalid as you would think.
"Batman and Robin" was released in 1949 and was directed by Spencer Gordon Bennet. It is a 15 chapter serial by Columbia Pictures. It is a sequel to the 1943 "Batman" serial, although with different actors.
Robin's cape in this serial is black instead of the usual yellow. Robert Lowery's Batman costume appears to be a little ill-fitting at times. Especially the mask portion. Lowery has to adjust it from time to time so he can see. The suit was originally tailored for Kirk Alyn, who is bigger than Lowery. Alyn starred as Superman in both of Columbia's Superman serials. Of course I'm not sure why the superheroes kept their costumes in a filing cabinet in the bat cave. The bad guys had a lot more toys than the good guys. The utility belts for the caped crusaders looked very un-utilitarian and Batman's looks a lot like gold lame.
The special effects were good. We even get to see the bat signal in this serial. And during the day too. Not sure how they did that. Superman changes in a phone booth. Batman and Robin get to change in the back of a 1949 Mercury convertible. Of course they put the top down first. Or is it up? My favorite of the toys is the little submarine that the Wizard uses to confuse his henchmen.
This serial was a lot of fun to watch. Other than the fact that there was no one of color in the serial at all, It didn't have the blatant racism like the first Batman serial in 1943. By 1949 WWII was over and kids were allowed to just enjoy a Saturday matinee and not have to worry about grown-up stuff like propaganda.
One of the things I love about old movies and serials is that they take you away from real life. Whether it's boring everyday stuff or stressful end of the world reality the old movies are something else. An alternate universe where the good guys always win and justice is always served. And sometimes it's the good guys that wear masks.
Chapter Titles: 1: Batman Takes Over 2: Tunnel of Terror 3: Robin's Wild Ride 4: Batman Trapped! 5: Robin Rescues Batman! 6: Target - Robin! 7: The Fatal Blast 8: Robin Meets the Wizard! 9: The Wizard Strikes Back! 10: Batman's Last Chance! 11: Robin's Ruse 12: Robin Rides the Wind The Wizard's Challenge 14: Batman vs. Wizard! 15: Batman Victorious