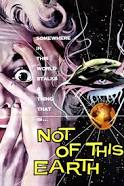 Davanna must endure.
An alien has transported to Earth. And he is one bad ass alien. He, of course, comes from a planet with a dying race. Planet Davanna. Due to a nuclear war they need blood. Lots of it. The alien has weird eyes and through telepathy can make you do things with his mind. He is here to see if Earth would be a good place for his species to inhabit. The alien's name is Paul Johnson (Paul Birch). He is dead pan and creepy. And as Johnson's chauffer Jeremy (Jonathan Haze) would say "This guy is six kinds of a freak".
Johnson has a portal in his house in which he communicates with the home planet. The ultimate goal of the aliens is the conquest, subjugation and pasturing of the Earth's sub humans. In the mean time the city is terrorized by someone who is draining people's blood and frying their brains.
"Not of This Earth" was released in 1957 and was directed by Roger Corman. Outside of the flying umbrella monster "Not of This Earth" was eerie and actually kinda scary. This is one of Roger Corman's spookier movies. It's reminiscent of a "Twilight Zone" episode. It's the usual low budget "B" movie but it's got some class to it. This movie proves that you don't have to be over the top campy to be a classic. I consider it a must have for my Science Fiction collection.
Beverly Garland is Nadine Storey the alien's nurse and she steals the movie. Her smart quips and quick smile make her character shine. She's got a no nonsense attitude. She's sure of herself and makes acting look easy.
Paul Birch walked off the film before shooting was completed after having a physical confrontation with Roger Corman. He was quoted as saying, "I am an actor, and I don't need this stuff... To hell with it all! Goodbye!" According to co-star Beverly Garland, Birch objected to the fast pace of the film, the old-fashioned, uncomfortable hard plastic contacts he had to wear, and the film's low-budget, which he considered beneath his status. As a result, Birch's remaining scenes were shot with Lyle Latell doubling for Birch.
The character Joe Piper was written as a brush salesman in an earlier draft of the script. Dick Miller ad-libbed all his dialogue as Piper and came up with the idea to make Piper a vacuum cleaner salesman.