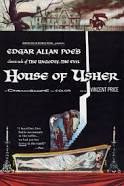 "You must leave this house now. It is not a healthy place for you to be."
Philip Winthrop (Mark Damon) has traveled to the House of Usher to meet his fiancée Madeline Usher (Myrna Fahey). The mansion is located in a gloomy swamp. At first the servant Bristol (Harry Ellerbe) refuses to let him in. He insists on seeing Madeline's brother Roderick (Vincent Price).
Philip tells Roderick that he is engaged to Madeline. Roderick opposes Philip's intentions. He tells Philip that the Usher family is afflicted by a cursed bloodline which has driven all their ancestors mad. Roderick believes that any future generation will also be cursed. Philip doesn't believe any of this and convinces Madeline to leave with him.
When Madeline tells her brother that she is leaving they get into a heated argument. During the argument Madeline suddenly dies. Roderick says it is her heart. Madeline is laid to rest in the family crypt beneath the house. When Philip is getting ready to leave the butler, Bristol (Harry Ellerbe) lets slip that Madeline suffered from catalepsy, a condition that makes her appear dead. Madeline was buried very much alive.
Roger did, depending on which list you are looking at, 7, 8, or 9 movies loosely based on Edgar Allan Poe tales. "The Fall of the House of Usher" released in 1960 was the first. The movie was produced and directed by Roger Corman and distributed by American International Pictures (AIP). Poe's story "The Fall of the House of Usher" was first published in 1839. Although Roger Corman's work in general is considered schlock, (AKA crap) in 1959 he managed to convince AIP to increase its usual budget and to add, of all things, a star. In this case Vincent Price. The success of "The Fall of the House of Usher" heralded the collaboration between Corman, AIP and Poe.
Filled with opulence and color, it is a tale of madness and obsession. The relationship between Roderick and his sister shows a subtle undertone of incestual tension. This would make Roderick and Philip adversaries for the affection of Madeline. Something that in Roderick's madness would make him resort to extreme measures to ensure that Madeline never leaves him.
All the candles in the house are red. The burnt desolate landscape that represents the swamp that Philip rides through was actually the site of a fire in the Hollywood hills. Roger and a crew went there the day after the fire to film the opening sequence of the movie. The film of the actual burning of the house in the movie was used as stock footage in subsequent Corman-Poe movies.
Price stared in seven of the eight movies that are Poe inspired. At times Price's acting may appear over the top. Some of that is attributed to Richard Matheson's flowery dialog for Price's character. The delivery of Matheson's writing by Price was intentional. Corman directed Price to deliver his lines this way as if to impress upon the audience not to take the movies too seriously. You don't have to tell Vincent Price twice to ham it up. Much of the violence and lurid nature of the films are due in no small part to Poe's intentions in his original writing. The studio's aim was to prevent censors from cutting out large sections of the films, or even banning them outright. You could be lurid in literature but not in movies.