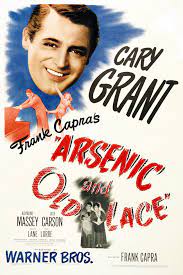 Mortimer Brewster (Cary Grant) is a drama critic and a writer. He is also the pinnacle symbol of bachelorhood. He wrote a book called "Marriage, A Fraud and A Failure". It is what some refer to as the bachelor's bible. Mortimer has fallen in love with Elaine Harper (Priscilla Lane), a minister's daughter and a girl from Brooklyn. Mortimer almost gets caught by a newspaper reporter and photographer applying for a marriage license at city hall.
Mortimer's only close relatives are his sweet little old aunts Martha Brewster (Jean Adair) and Abby Brewster (Josephine Hull) and his younger brother Teddy Brewster (John Alexander). Teddy thinks he's actually Teddy Roosevelt. Teddy spends his days running up the stairs as if he was charging up San Juan Hill and digging holes in the floor of the cellar believing he is digging the Panama Canal. Teddy is harmless and his aunts indulge him. The aunts, on the other hand, kill people. Not just anybody but lonely people who have no one in the world. It is one of their acts of charity. They give the lonely old men Elderberry wine laced with poison.
After Mortimer and Elaine get married she goes over to her father's house to tell her father and pack for her honeymoon. Elaine and her father live in the parish house next to Mortimer's family home. In between the two is the cemetery. Since Martha and Abby raised Mortimer he visits his aunts to tell them about his marriage.
While looking for some notes for his next book Mortimer finds the body of Mr. Hoskins in the window seat. Mortimer finds out that his sweet little old aunts have been murdering men for years. Including the first man who had a heart attack in their dining room and Mr. Hoskins in the window seat there have been twelve men who died. Teddy has been digging graves in the basement believing he is burying yellow fever victims from his work on the Panama Canal.
While trying to absorb this reality and trying to keep Elaine from learning about it Mortimer's evil older brother, Jonathan Brewster (Raymond Massey), shows up in the night having escaped from a prison for the criminally insane. Jonathan is a murderer in his own right. Along with Jonathan is Dr. Einstein (Peter Lorre), a plastic surgeon and alcoholic who is preparing to give Jonathan a new face so he can elude capture from the police. In addition Jonathan has his own dead body to deal with, Mr. Spinalzo, who is currently in the rumble seat of the car. Mortimer is now fully aware that everyone in his family is insane. He begins to wonder if the insanity is hereditary and what does that mean for him and his marriage to Elaine.
"Arsenic and Old Lace" was released in 1944 and was directed by Frank Capra. It is an American black comedy and a crime thriller farce that is based on the 1941 play by Joseph Kesselring. The movie was scheduled to be released in 1942; however, contract requirements insisted that the film not be released until after the play completed its run. Since the play ran longer than expected the film was not released until 1944.
The movie is a fast paced romp through horror, with some really creepy moments, especially when Jonathan shows up. It is peppered with some spectacular character actors from Gary Owen as the taxi driver to Edward Everett Horton as Mr. Witherspoon the scatterbrained head of Happydale Sanitarium. Just about everyone is brilliant no matter how small their part is. Jean Adair, Josephine Hull and John Alexander reprise their roles as the wacky Brewster family from the original play. Boris Karloff played the evil Jonathan Brewster on stage. He was unable to get released from his stage commitment to play Jonathan in the film so Raymond Massey was hired in his stead. All the lines referred to Jonathan looking like Boris Karloff are still part of the film.
Aunt Abby's recipe for poisoned Elderberry wine: To one gallon of wine add one teaspoon of arsenic, one half a teaspoon of strychnine and just a pinch of cyanide.