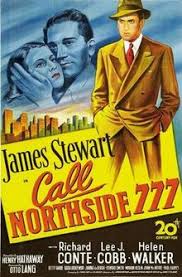 1932 was a year for a lot of murders in Chicago. It was Prohibition and there was a war on between the cops and the bootleggers. In a speakeasy, on the north side of the city, patrolman John Bundy (Eddie Dunn) is killed by two men. Frank Wiecek (Richard Conte) is one of the men arrested and put on trial for the murder. He says he is innocent but the jury says he's guilty. He gets 99 years in prison for the crime.
Eleven years later an ad appears in the paper: "$5,000 reward for killers of officer Bundy on Dec 9, 1932. Call Northside 777. Ask for Tillie Wiecek 12-7 p.m." The ad is placed by Wiecek's mother Tillie (Kasia Orzazewski). Brian Kelly (Lee J. Cobb), the editor of the Chicago Times is interested in the ad. He assigns P.J. McNeal (James Stewart) to the story. Check it out.
McNeal talks to Tillie and then talks to Wiecek. He writes his article about Tillie scrubbing floors for eleven years with the belief that her son is innocent. Wiecek says he's innocent too. McNeal doesn't really believe him but he writes a heartwarming story. Everybody loves it.
Kelly wants McNeal to do some more research on the story and do a follow-up. McNeal still thinks he's guilty and so he talks to Wiecek's ex-wife Helen (Joanne De Bergh) for the real scoop. Helen is re-married to a man named Rayska (E.G. Marshall). Wiecek's son Frank Jr. (Michael Chapin) is also home. Helen says Frank was with her that night and that Frank wanted her to get a divorce and re-marry so their son could have a different name and be protected from the publicity. McNeal writes his story.
McNeal is beginning to change his mind about Wiecek. He starts digging into the story and runs into a wall on un-cooperation with the police and the state's attorney's office. He uncovers a conspiracy to cover up incompetence. But he needs proof that Wiecek is innocent.
"Call Northside 777" was released in 1948 and was directed by Henry Hathaway. It is a Documentary style drama and a film noir. It is also based on a true story. In the film, the man that gives Wiecek the polygraph test is the man that invented it. Leonarde Keeler played himself. The real name of the reporter from the Chicago Times was James P. McGuire. He also served as a Technical Advisor on the film. Frank Wiecek's name, in real-life, was Joseph Majczek.
It was the first Hollywood produced feature film that was entirely shot on location in Chicago. Actual locations were used whenever it was possible. Many famous landmarks, such as the Chicago Merchandise Mart, Holy Trinity Polish Mission, and the Wrigley Building on North Michigan Avenue, can be seen throughout the film.
Stateville Correctional Center was built in 1925. Part of the prison is designed in what is called the panopticon concept. The state's "F-house" cellhouse was commonly called the "roundhouse". This is where Wiecek was housed when he was in the prison. It was closed in 2016 due to health and safety concerns but kept intact due to its historical significance.
In May of 2020, when Juan Rodriguez tested positive for covid-19 Rodriguez was moved to a cell in the panopticon. Officials said it was reopened temporarily "to ensure men incarcerated at the facility are safely quarantined or isolated." The official spokesperson also said "necessary repairs were made to the housing unit." The spokesperson also maintained that Illinois Department of Public Health had inspected it. The reason the F-House was closed was due to mold, leaks, plumbing issues, cockroaches and chipped paint. An estimate to fix the facility in 2016 was around ten million dollars. Conditions inside the panopticon in 2016 were considered inhumane.
**SPOILER: The man imprisoned with Frank Majczek, Tomek Zaleska, whose name in real-life was Theodore Marcinkiewicz, was released from prison in 1950, five years after Majczek. Marcinkiewicz was awarded thirty-five thousand dollars from the State of Illinois for his seventeen years of imprisonment.**