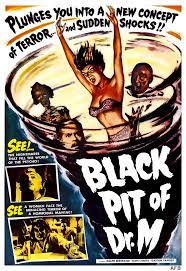 Dr. Mazali (Rafael Bertrand) and Dr. Jacinto Aldama (Anotonio Raxel) have made a bizarre pact.  Whoever is to die first will find a way to tell the other how to go into the other world and return without actually dying.  Mazali reminds Aldama about this promise on his death bed.  He also tells Aldama that his spirit will be eternally condemned if he does not fulfill that promise. 
Mazali has a séance where the spirit of Aldama tells him that there is a way to enter the spirit world and then return to the living, but there is a terrible price to pay if he decides to go ahead with the experiment.  Mazali says he is not afraid.  Aldama's spirit says that Mazali will have what he seeks in three months, on November 15th at 9:00 PM.  He says that a series of events will occur that will bring Mazali to that destiny.  Aldama's spirit will explain no further.
During the next three months several things happen.  A young woman, Patricia (Mapita Cortes) is visited by the spirit of Aldama.  He does not tell her who he is but only that her father did not die when she was young.  He tells her about a secret compartment in a locket that her mother gave her before she died.  Inside is a key.  He then sends her to see Dr. Mazali. 
Mazali owns and runs an insane asylum.  At the asylum Patricia learns that the spirit she saw was her father and that he left her a small trunk that contains her birth certificate and some jewelry.  She also meets Dr. Eduardo Jimenez (Gaston Santos), a man she has been having dreams about.  Patricia and Eduardo fall in love, but Mazali also falls in love with Patricia.
One of the asylum patients, a woman they call the gypsy (Carolina Barret), gets loose and splashes acid on Elmer (Carlos Ancira), one of the orderlies.  The acid deforms his face and sends the orderly into an insane rage and looking for revenge.  Elmer ends up being the tool used to bring about the horrible destiny that Aldama forecasted. 
"The Black Pit of Dr. M" AKA "Misterios de ultratumba" was released in 1959 and was directed by Fernando Mendez.  It is a Mexican horror movie.  At one time the movie was edited and dubbed into English for American audiences.  The English version is believed to be lost.
This was a really good horror film.  The sets are wonderful and there are some great gothic touches.  Some of them have an expressionistic flare.  There is a lot of eerie atmosphere, and having it take place in an insane asylum adds to the overall effect.   It actually ended up being a well-done horror movie, on par with many of the Universal horror movies.
The violin piece that Dr. Mazali plays for Patricia is "Csardas" by Vittorio Monti.  The piece was composed in 1904.   
Movie
Csardas by Vittorio Monti