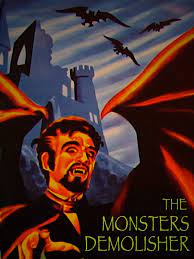 Two young boys, exploring an underground labyrinth, are chased by a hunchback named Leo (Manuel Vergara Manver).  Trying to elude the hunchback they inadvertently uncover the buried vampire, Nostradamus (German Robles).  Leo, ever faithful servant of the vampire, digs him out.
Nostradamus, desiring recognition of his greatness, wanted Professor Duran (Domingo Soler) to publicly acknowledge that fact.  Duran is the chairman of the Society for the Abolishment of Superstition.  When Duran refused, Nostradamus began a deadly game where he vowed to kill thirteen people unless Duran changed his mind.  Now that Duran knows that Nostradamus is still alive, the game continues.
Nostradamus informs Duran that his next victim is Pedro Morales.  Duran and his assistant, Antonio (Julio Aleman), visit the Morales family and find that Mr. Morales died a long time ago.  Duran then finds out that it is Pedro's son, Pedro Morales Jr. (Rogelio Jimenez) that is to die.  Duran and Antonio guard Pedro.  Nostradamus sends Leo to kidnap Duran's daughter, Anita (Aurora Alvarado) as a diversion.  While Duran and Antonio are busy saving Anita, Nostradamus lures Pedro away.  Before he can dispatch Pedro, the sun comes up and Nostradamus returns to his crypt.  Duran and Antonio ultimately rescue Pedro.
Nostradamus then vows to kill a condemned man named Jose Marchioti (Antonio Raxel).  Jose is hanged by the authorities, but Nostradamus turns him into one of the undead and uses him to do his bidding. 
Soon after that Duran and Antonio are contacted by a vampire hunter named Igor (Jack Taylor).  Igor is a descendent of Count Craddock and is the last in a long line of vampire hunters who have been searching for Nostradamus.  Igor teams up with Duran and Antonio to battle the centuries old vampire.
"The Monsters Demolisher" AKA "Nostradamus Y el Destructor de Monstruos" was released in 1962 in Mexico and 1965 in America.  It was directed by Federico Curiel and was originally part of a twelve-chapter Mexican horror serial from 1959.  K. Gordon Murray purchased the rights to the serial and broke it down into four separate movies.  It was then dubbed into English.  The names of some of the characters were changed and the films were released in America.  This film was the second of the quartet of films.  The other movies were ""The Curse of Nostradamus", "Genie of Darkness", and "Blood of Nostradamus".
This creates a problem in that, since the film is actually part of a bigger production, there are parts that are not explained that happened in the first film and the ending is rather abrupt because it is a cliffhanger that is not resolved until the next film.  As standalone films they are confusing.  It is only when you see them back-to-back that they make more sense. 
To create the four films Murray grouped three episodes together for each film.  The episodes and their corresponding films were: Film 1-La Maldicion de Nostradamus or The Curse of Nostradamus, episodes 1. El dedo del destino 2. El libro de los siglos, 3. Las victimas de la noche.  Film 2-Nostradamus ye el Destructor de Monstrous or The Monsters Demolisher, episodes 4. El destructor de monstrous, 5. El estudiante y la horca, 6. El ataud vacio.  Film 3-Nostradamus, el Genio de las Tinieblas or The Genie of Darkness, episodes 7. El genio de las tinieblas, 8. Mas alla de la vida, 9. El hijo de la noche.  Film 4-La Sangre de Nostradamus or The Blood of Nostradamus, episodes 10. El aparecido en el conviento, 11. El ave negra, 12. La ultima victim.