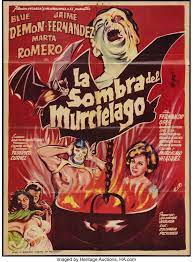 The Bat is a former wrestler that became disfigured. He hides in a decrepit castle with his main henchman Gerardo (Gerardo Zepeda). The only things that calm his nerves are music and wrestling. Because of that he spends his days playing the organ, watching a beautiful singer named Marta (Marta Romero) and wrestling with Gerardo. From time to time the Bat sends Gerardo out to kidnap a luchador for him to wrestle. After these matches Gerardo kills them and dumps their bodies around the city.
When the Bat sees Marta singing on television he orders Gerardo to kidnap her and bring her to his cave. Gerardo sends a couple minions to grab Marta. Unfortunately for them her boyfriend Daniel (Jaime Fernandez) beats them up and they go away empty handed. When they get back to the Bat he is pissed and tells Gerardo to deal with them. The minions are given the choice of death, the room of bats or the well of rats.
The Bat sends Gerardo himself to kidnap Marta. Gerardo beats up Daniel and is about to abscond with Marta when Blue Demon (Blue Demon) shows up and beats the crap out of Gerardo. Gerardo runs away. Marta thanks him for saving them. Blue Demon tells them that he finds purpose in helping others. Daniel reminds him that he put himself in harm's way. Blue Demon remarks "If injustice is stopped, it's worthwhile".
Undaunted the Bat's henchman, Gerardo, eventually manages to kidnap Marta. The Bat believes that once Marta hears his music she will know his true soul. He expounds his love for her but she spurns him. Things are not looking good for Marta. While Marta is being held by the Bat, Blue Demon is investigating clues to find out where the Bat's lair is and, with Daniel, must attempt to rescue Marta while defeating the Bat in a no holds barred wrestling match.
"The Shadow of the Bat" AKA "La Sombra del murcielago" was released in 1968 and was directed by Federico Curiel. It is a Mexican luchador horror film.
The character of the Bat was played by luchador Fernando Oses. The movie was written by Jesus Velazquez. Velazquez was a luchador that went by the wrestling name of El Murcielago (The Bat) in the ring. Velazquez also played the part of the Bat's trainer in the movie. Velazquez wrote several stories and screenplays. He wrestled from 1938 to 1956 and died in 1972. The mask that Oses wears in the movie is not the same one that Velazquez wore when he wrestled.
It is a mostly fun movie. There's lots of wrestling and lots of singing and a really long wrestling match toward the end of the movie. You also get to hear Tommy James and the Shondells' song "Mony Mony" in Spanish.