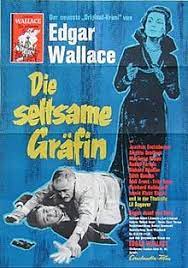 Margaret Reedle (Brigitte Grothum) works for an attorney, Mr. Shaddle (Fritz Rasp). She has accepted a new position as the personal secretary to Countess Leonora Moron (Lil Dagover) and this will be her last day working for Shaddle. Before she even gets to work an attempt is made on her life. She is saved by Michael Dorn (Joachim Fuchsberger). While going out to run an errand for her boss her car blows up. Mike is once again there to save her.
Margaret finally is able to run her errand. She goes to Telsbury Prison to have papers signed for a prisoner who is being released. The prisoner, Mary Pinder (Marianne Hoppe), had been in prison twenty years for murder. She supposedly poisoned someone. At the time she was convicted she was pregnant so instead of the death penalty she got life in prison. Since then she had been a model prisoner so she is now being released.
When Margaret gets home there is a box of chocolates waiting for her. Late at night Mike sneaks into her house and steals the chocolates. He has them analyzed and finds out there is poison in them. Mike turns out to be a police inspector who was working part time for Mr. Shaddle as a private investigator. Shaddle believed Margaret's life was in danger and his concerns are proving to be correct since three times in one day someone has tried to kill her. The man stalking and trying to kill Margaret is Bresset (Klaus Kinski), a mental patient who believes that he needs to kill Margaret to prove he is sane. Margaret then finds out that Mary Pinder, the woman prisoner, is actually her mother.
While working for the Countess there are more attempts on Margaret's life and more than one person may be out to get her. By now she is at wit's end and totally confused as to why someone wants to kill her. She is also trying to cope with the fact that she was adopted and that her real mother was a murderer. It's not long before Margaret finds herself in the middle of an extortion plot and a twenty year old murder investigation.
"The Strange Countess" AKA "Die seltsame Gräfin" was released in 1961 and was directed by Josef von Baky and Jurgen Roland. It is a West German crime thriller and a krimi. The movie is based on the Edgar Wallace 1925 novel of the same name.
One of the highlights of the film is the many attempts on Mary's life. In the space of a few days her life is threatened by bricks falling on her, a car bomb, poisoning, a hit and run, a fall from a dangerous balcony and being locked in an insane asylum.
This is a very busy film but very enjoyable. For the most part the action is non-stop. Even though it was busy it was not near as difficult to follow as some of the other Edgar Wallace films. The standard cast of krimi actors that became the subgenre's stock and trade are present. Joachim Fuchsberger plays his usual heartthrob police inspector. Eddi Arent is the comic relief and is only a little annoying. Most of the time he is decent as the tormented mama's boy who is the Countess' son Selwyn.
Klaus Kinski absolutely soars in this film. He has the best role ever as the mentally disturbed Bresset who believes that to prove he is sane he must kill Margaret. He is absolutely obsessed with his mission and anything that comes in his way sends him into hyper-drive insane. It's wonderful watching him.