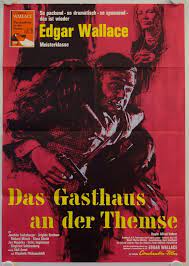 There is a serial killer lurking around the Thames River in London. The police refer to him as the Shark. He kills using a spear gun and makes his getaway in a wetsuit via the river and the city sewer system. In addition to the murders it is believed the same person robbed the Saint James Bank. Scotland Yard's Sir John (Siegfried Schurenberg) and his officers have had no luck in apprehending the villain. Inspector Wade (Joachim Fuchsberger) who is attached to the River Police is the only one who has been able to make any headway on the case. Sir John puts him in charge.
Alongside the Thames is a dive bar called the Mekka. The bar is suspected to be tied to a smuggling ring. Wade also suspects that the Shark may also have something to do with smuggling. The bar is owned by Nelly Oaks (Elisabeth Flickenschildt). She employees a bartender and bouncer called Willie (Rudolf Fenner). Mrs. Oaks also cares for a young girl named Leila Smith (Brigitte Grothum). Leila is still a minor and is kept away from any sleazy goings on. Mrs. Oaks also rents a room to a shady Russian named Gregor Gubanow (Klaus Kinski) whose nose always seems to be in everyone else's business. Inspector Wade spends a lot of time at the Mekka snooping around.
What Wade doesn't know is that the Shark is not only a killer but is the head of a jewelry robbing and smuggling ring. Even his minions are not aware of his true identity. Also involved in the Shark's enterprise are a thug named Roger Lane (Jan Hendriks) and a Mr. Broen (Heinz Engelmann). Broen is a supposed family friend who has nefarious plans for Leila.
As Wade gets closer to identifying the Shark the bodies start piling up. Adding to Wade's worries is a suspicion that Leila is being used as a pawn in a different deadly game of chess.
"The Inn on the River" AKA "Das Gasthaus an der Themse" was released in 1962 and was directed by Alfred Vohrer. It is a West German crime thriller and a krimi. The movie was based on Edgar Wallace's 1929 novel "The India-Rubber Men". It is also the ninth krimi film that Rialto produced. It is also the first of the films to feature Edgar Wallace's voice before the beginning credits.
This was a good krimi. The weapon of choice is a bit odd, a spear gun is unusual, but when you pair it with a black wetsuit and underwater getaways it adds to the mystery. As usual there are some red herrings and at least one subplot that doesn't have a lot to do with the main plot. The relationship between Wade and the not quite legal Leila is a little disconcerting. Kinski was good as the slimy boarder who you know had something up his sleeve. What it is was an interesting little twist. My main confusion was in the final twist at the big reveal. I'm not sure how Wade made the leap to identifying who the Shark was. It was a nice little reveal but how he got there I'm not sure. Besides that it was interesting and a decent addition to the krimi series.
The annoying comedy relief is provided by Eddie Arent as Herbert Oliver Douglas Barnaby Junior the wanna be rower of a racing shell. Practicing his rowing skills he manages to be a witness that brings important information on the case. Arent played the comic relief in over a hundred films, at least twenty of them krimis. There are only two krimis that I know of where he played evil characters.