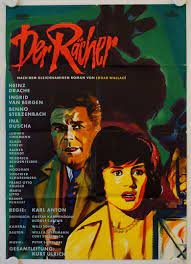 Two women find the head of a man in a cardboard box alongside the road. It is the twelfth victim of a killer who calls himself the Executioner. This time the victim is known to Scotland Yard. His name was Francis Elmer and he worked for them. Scotland Yard asks the British secret service to help. The agency is headed by Major Staines (Siegfried Schurenberg). Staines assigns the case to Michael Brixan (Heinz Drache). The only clues are type written letters with the heads. The typewriter used has two off center keys, the G and the U.
Elmer hadn't been seen for three weeks. The last known person to see him was his niece, Ruth Sanders (Ina Duscha). Ruth is an extra in a movie being shot on location at a country estate. The estate is owned by Henry Longvale (Ludwig Linkmann). Brixan poses as a reporter investigating the murder of her uncle and begins asking Ruth questions. Ruth tells him that the last time she saw her uncle he was standing in front of a news stand. He had a newspaper under his arm and was holding a letter. The news stand is also a post office. Brixan finds out from the proprietor that Elmer picked up a letter from the stand but already had the newspaper with him and an ad in the paper was underlined.
In the meantime the star of the movie, Stella Mendoza (Ingrid van Bergen), gets fired and Ruth is given her part. When Brixan sees Ruth's copy of the script he notices that one page comes from a different script that was typed using the same typewriter as the notes with the heads. Lorenz Voss (Klaus Kinski) is the person who handles all the scripts the film company receives. Voss is not very forthcoming as to where the script came from that matches the death letters. Voss gets fired and resorts to blackmail which results in the loss of his head.
Hanging around the movie set is Longvale's neighbor, Sir Gregory Penn (Benno Sterzenbach). Penn is lusting after Ruth. He also employs a hairy animal like man called Bhag (Al Hoosman). Penn's home is full of all kinds of sharp weapons that could take a person's head off. Both Penn and Bhag are strong enough to accomplish the feat with one swipe. When Penn sends Bhag to kidnap Ruth they both come under Brixan's radar as possible suspects.
"The Avenger" AKA "Der Racher" was released in 1960 and was directed by Karl Anton. It is a West German crime thriller and a krimi. The movie is based on the 1926 novel by Edgar Wallace that was also called "Der Racher".
This was a pretty good mystery. It had both noir and gothic touches to it. There are some obvious red herrings but the plot was not as confusing as some I've seen so being able to follow what is going on was a plus. Later krimis became a lot more comical. Siegfried Schurenberg, who plays Major Staines, would go on to play Sir John, a rather clownish and bumbling head of Scotland Yard, in later krimi films.
Ingrid van Bergen, who plays Stella Mendoza, the temperamental movie star, was born June 15, 1931 in Danzig-Langfuhr, Poland. On February 2, 1977 she killed her younger partner Klaus Knaths in a jealous rage in their home in West Germany. She was convicted of manslaughter and was sentenced to seven years in Aichach, a women's prison in Bavaria. In 1982 she was released two years early for good behavior. After her release she went back to acting. She continued acting until 2017 when she had a cameo in "Sharknado 5: Global Swarming"
The copy of the movie I have is subtitled in English but the sound in the last five minutes of the film is missing.