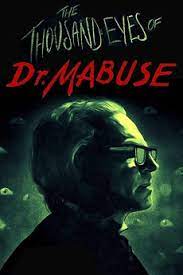 Peter Cornelius (billed as Lupo Prezzo) is a blind clairvoyant. When a reporter from a local television station is killed Cornelius calls Commissioner Kras (Gert Frobe) and relays a vision he had of the event. The murder weapon turns out to be a needle shot into the man's brain by a special air gun that was developed by the American Army. The prototype went missing.
An assembly of investigators discusses the weapon and the murder. One of them says it reminds him of a crime done by an evil criminal called Dr. Mabuse. Mabuse died in 1932 but he left instructions on the crimes he intended to do. Some believe that Mabuse is not really dead. In tracing the reporter's steps it is found that he was seen at the Hotel Luxor. When Interpol reviews their outstanding cases they find that they have a series of crimes, all unsolved. The common denominator, each victim had been staying at the Hotel Luxor, a hotel built in 1932 during the Nazi regime.
Meanwhile, at the Luxor, a woman named Marion Menil (Dawn Addams) is standing on the ledge of the hotel and appears ready to jump. She is talked off the ledge by a rich American industrialist named Henry Travers (Peter van Eyck). Travers takes an interest in Marion. Marion confides in Travers that her husband, Roberto Menil (Reinhard Kolldehoff), is abusive and is looking for her. Travers becomes embroiled in Marion's problems and falls in love with the frightened woman.
Commissioner Kras is tasked with finding what a blind psychic, a woman's failed attempt at suicide and crimes involving the Hotel Luxor have in common. Things hit close to home when an attempt on Kras' life results in the death of his assistant. Also floating around the edges is Hieronymus B. Mistelzweig (Werner Peters), who claims to be an insurance salesman but who is far too interested in everyone else's business.
"The 1000 Eyes of Dr. Mabuse" AKA "Die 1000 Augen Des Dr. Mabuse" was released in 1960 and was directed by Fritz Lang. It is credited as being Lang's last directorial project. It is a German crime thriller and a German krimi. It is also one of a series of films featuring the Dr. Mabuse character.
The script was written by Fritz Lang and Heinz Oskar Wuttig and was based on the novel "Mr. Tot Buys a Thousand Eyes" by Jan Fethke. The film is lovingly referred to as Fritz Lang's swan song. For his swan song Lang picked a good one. Reviving one of his best evil characters, Dr. Mabuse, Lang brings him into the present and turns him into a legend.
The plot is a bit involved but it's easy to follow and leads you into some unusual situations and places. It's a combination mystery and espionage thriller flavored with a touch of Nazi simmering below the surface. The film includes quite a few characters and not all of them are what or who they appear to be. Even the dreaded and evil Dr. Mabuse is not exactly what you expect. There are twists and turns and even a few red herrings but the film is so well crafted that they add to the overall story.
Dr. Mabuse came to life in Norbert Jacques novel "Dr. Mabuse, der Spieler" AKA "Dr. Mabuse, the Gambler". Lang made three Dr. Mabuse films. In 1922 his silent film "Dr. Mabuse the Gambler" brought the character to the big screen. In 1933 he made "The Testament of Dr. Mabuse". Lang then fled Nazi Germany and moved to the U.S. where he continued to make films. Lang didn't return to Germany until 1959 where he made his final three films, the last one being "The 1000 Eyes of Dr. Mabuse".