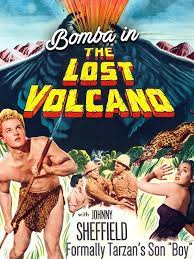 Paul Gordon (Donald Woods) captures wild animals. He lives in the jungle with his wife Ruth (Marjorie Lord) and his son David (Tommy Ivo). David is friends with a jungle boy named Bomba (Johnny Sheffield). Bomba has grown up in the jungle and he's been teaching David survival techniques. David just likes having fun with Bomba. When David is in the jungle he wears a loincloth and ties a knife around his waist to use as a tool.
David's father thinks that Bomba is nothing more than a legend and David's invisible friend. Paul tells David that if he doesn't bring Bomba over to prove he exists he will not be allowed to play in the jungle anymore. The next time David goes into the jungle he tries to convince Bomba to come home with him and meet his family. Bomba refuses. He doesn't like Paul because he traps animals. When David went into the jungle the family servant Nona (Elena Verdugo) follows him to see if there really is a Bomba. She sees the jungle boy so she knows he does exist. She finds David's loincloth and knife. She brings them home to prove that David wasn't lying about his friend.
In the meantime three men come to the Gordon residence, Dr. Charles Langley (Grandon Rhodes), Fred Barton (John Ridgely) and Fred Higgins (Don C. Harvey). Langley is an archeologist looking for a lost volcano that is said to have an ancient city buried under it. Barton and Higgins are his guides.
They come to Paul looking for help getting to the volcano. Paul says he can't help because he is taking David out of the jungle to go to school to get him away from the jungle myths. When Nona comes in with David's knife Barton and Higgins realize it is made of gold and encrusted with emeralds. Then David tells them that he's been to the volcano and that there are a lot of things hanging around it made from the same stuff. Barton and Higgins turn greedy and kidnap David wanting him to take them to the volcano and the gold and jewels.
"The Lost Volcano" was released in 1950 and was directed by Ford Beebe. It is a jungle adventure story and a fantasy. It is the third film in the "Bomba, the Jungle Boy series." There were twelve Jungle Boy movies made. The low budget movies were produced by Monogram Pictures. All of them starred Johnny Sheffield. Sheffield had already established himself as a child adventure actor for portraying Boy in the Tarzan movies that starred Johnny Weissmuller. The Bomba films were produced between 1949 and 1955.
The film, for the most part, is light and geared towards children. The racism is not rampant but there are some subtle phrases here and there. The production values are very low. Everything is either jungle sets or stock footage but that's standard for jungle movies from the fifties. The volcano eruption at the end of the film is long and a little on the impressive side. Stock footage of the volcano eruption from "One Million BC" 1940 is used. If you've ever seen any of the Bomba films when they were made, nostalgia will set it.
The movies are based on a series of American boys' adventure stories on Bomba the Jungle Boy. The books were produced by the Stratemeyer Syndicate by various authors using the pseudonym Roy Rockwood. The books were written to capitalize on the Tarzan series. There were twenty books in the series. The first ten are set in South America. Bomba is a white boy who grew up in the jungle and tries to discover his origins. The second ten books are based on an older Bomba and take place in Africa.